Imagine a school where academics go hand-in-hand with spirituality. In today's world, a number of schools, including Cathedral Catholic High School (CCHS), incorporate faith into their curriculum, bringing this imaginative education to life. However, the integration of religion in schools has been under recent debate among students and faculty. 
Outside of our school community, the idea of Mass in school is highly controversial.  An article written by Cori Urban, a writer from the Vermont Catholic News, explains that "it helps them bring their faith into focus…" Incorporating religion into a school environment improves not only intellectual growth, but also the growth of students' faith. 
On the opposing side, an article written by Think Student claims that "Whilst this leads them to become devout members of the faith, it also means they do not get a grasp of other religious viewpoints." Although Mass in school does improve students' Christian faith, it limits the exposure they have to other religions.
While the issue is debated within the outside world, the issue is also under recent discussion within the school community.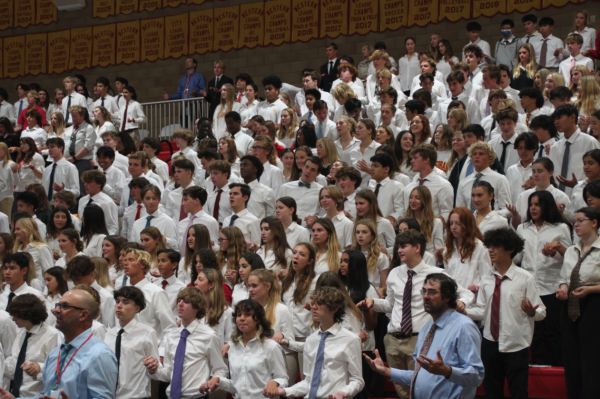 Charlie Coney, CCHS '26, shared that Mass "bring[s] the school together in a spiritual way." As schools embrace spirituality into their community, the campus is connected under a common principle of faith and humility. Coney continues to explain that having Mass in school "strengthens the school community."
Ultimately, the Catholic faith lessons taught help students make better choices in life, which will aid in the construction of a stronger and kinder community.
Julia Sindici, a non-Catholic student at CCHS shares that "It is very cool to see the whole school come together for an event even though I don't really take part." Even students that are not Catholic respect the impact that Mass has on the community. Having Mass once a month brings students, teachers, and staff together under one roof with shared values.
Mass gatherings in schools contribute to a more connected and supportive community, enhancing the overall experience for everyone in school. During Mass, important values are shared to the whole school community, which promotes unity among all individuals. Although it is a very complicated issue, it is clear that many individuals in our school community agree that there are benefits to religious involvement in school.