Lions and tigers and life lessons! Oh my!
While Dorothy brought home courage, heart and knowledge from the Land of Oz, Cathedral Catholic High School student McKenna Colachis '17 brought home life lessons from Africa, where she spent time working with the Peace Corps and Broadreach programs.
"Our time in Africa would have changed anyone, but it was fairly clear how it affected Mckenna," fellow group member Amy Baron said. "We both came back, and it was easy to see the change in her. She is the type of person that will drop anything to help someone else."
Volunteering on the plains of Tanzania, Lesotho, Mozambique and South Africa, Colachis realized that her problems were only minor in the grand scheme of things.
In high school, waking up in the early hours of the day to sit at a desk for six hours may seem like torture for American teens, when in reality many students worldwide do not have the gift of education. Witnessing the reality in Africa has taught Colachis to appreciate every day in the classroom.
"Through McKenna's experience, she has influenced me by the many stories she has brought back," Gia Galardi '17 said. "They have inspired me to be thankful for everything I have access to in my daily life. It is incredible how much it has benefited not only her, but those around her, including myself."
Being immersed in the culture of the indigenous Hazda people in Africa opened Colachis' eyes to a new way of life. Colachis' volunteer group was welcomed with a goat ceremony, in which the animal was skinned alive for dinner that night.
"From then on out we were hunting for food with bow and arrow using poison tips," Colachis said. "We had no bathrooms, running water or showers."
One with the African people, Colachis encountered a meaningful experience with her ukelele and a young African girl she met while volunteering.
"[We] were talking about music," Colachis said. "She saw I had a ukulele in the back of my car and kept pointing to it and smiling. She was trying to tell me she wanted me to play it, so I started playing common American songs and to my surprise, she knew them. She sang to every song I played and the language barrier felt nonexistent."
Colachis' trip to Africa broadened her perspectives while challenging her comfort zones. Beyond the typical vacation, Colachis' embarkment to Africa gave her a sense of empowerment while impacting the lives of others.
Doing something bolder than one's typical family trip not only benefits those in need, but one's own character as well.



About the Contributor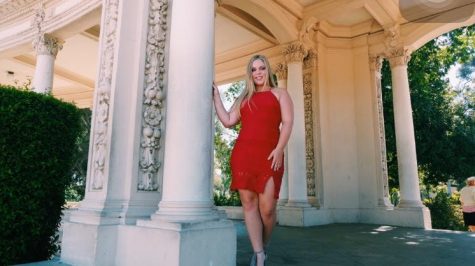 Sydney Calhoun, Managing Editor
As a result of my whimsical spirit, booking flights on American Airlines has become a hobby and picking up the monthly copy of VOGUE is routine. Aside...