The National Champions
CCHS dance team, twirls to top, winning "Number 1 National Champions" for the first time ever! They won first in every category they competed in except awarding an impressive 2nd place in Large Pom. Out of every school, they won first in small lyrical, second in small jazz and ninth in extra small overall! You killed it ladies!
I spoke to the captains of this overarching team, Emma Hellenkamp '23, Hailey Meyers '23, and Lauren Cox '23, to hear more about the dancer lifestyle and how they made it to the top.
This year, Hellenkamp won "WCE Dancer of the Year"! Serving as one of the dance team captains, she never fails to lead her team to victory. She has been dancing for 15 years. She will be dancing at THE Ohio State next fall with Meyers!
Hellenkamp says her biggest inspiration is her mom as she is the JV Head Coach and teaches at Danceology. "She is a huge part of everyone on the team, it's so inspiring to see her impact all the girls."
Meyers' best memory of being on the dance team for the last four years is of course…. Winning Nationals! Her favorite style of dance to compete Pom, " "Every year we have a big comp pom routine and it's fun to be with the whole team on stage."
The talented dancers expected this huge win. Cox says, "We did because we felt so confident, but we also had so many great competitors. But we knew we did what we needed to do."
Cox has danced for as long as she can remember and her top choice for college is Ole Miss, where she hopes to continue her dancing career.
These girls put immense effort and rehearsal into these dances. While it's hard to memorize all this choreography, CCDT is filled with talented dancers who have been trained to pick up dances with the snap of a finger!
Practicing not only three times a week after school, CCDT schedules morning practices on top of those as competitions become closer. Bright and early, the dons block, clean, and make any last minute changes to their routines before making their mark on stage. You could say this is their secret to success.
Next year, the team is looking to keep their strengths and talents strong as the under class men's potential has shown through this competition season.
The team is now choreographing and prepping for their annual spring concert. They perform over 15 dances including a special performance with Mance! You do not want to miss this show. Each senior will be celebrated as they stage their very own solo that encapsulates their own unique talents.
Come watch this amazing show on Thursday April 27th and Friday April 28th!
Follow @cathedraldonsdance on Instagram to stay updated on all the audition information for the 2023-2024 school year, as well as upcoming performances. Congratulations on the incredible season ladies!
Leave a Comment
About the Contributor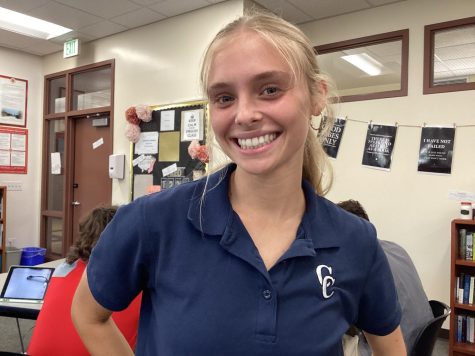 Nicole Moore, Photo Editor & Spiritual Life Editor
Nicole Moore is a first year staffer for El Cid Online. She was inspired by her success in previous English classes to pursue journalism for her senior...