The Commitment Process for Elite Athletes at CCHS
For most seniors, college acceptances are revealed during the early springtime of their graduating year; however, a select population of Cathedral Catholic High School (CCHS) students remain unfazed by the stress of college decisions during this time. Elite athletes at CCHS commit to college athletic programs much earlier than the average applicant secures an academic acceptance to college. The athletic application process is considerably different compared to an academic application in respect to the priorities, the timeline, and the stress. 
Although this stress is focused earlier in their highschool career, it is debatably more severe— the athletes are younger and hold priorities that differ greatly from the typical college applicant. 
While standard students are striving to attend the highest academic college possible, athletes have to greatly consider the athletic program. This process looks different from athlete to athlete. 
One mindset is to continue in athletic endeavors by joining the most reputable sports programs. This is applicable to the decision-making process that Vincent Venverloh '24 considered in his commitment to play division one baseball at the University of San Diego (USD). He elaborates, "My dream is to play baseball at as high of a level as I could possibly play and if my career ends in college, I don't want to regret it… For all the hard work I've put in, I deserve to give myself the highest chance to get drafted."
This swayed him to decide in favor of the baseball program at USD over more academically prestigious offers. 
Through a contrasting lens, athletic talent can be harnessed to achieve acceptance to highly prestigious academic colleges- more so than it is used to achieve acceptance to the most popular athletic programs. 
Beck Mahoney '24 is committed to Cornell University for lacrosse. He reflects, "I didn't want to go to a school just because they were good at lacrosse, I more wanted to use lacrosse to get into a good school.. I also wanted a school that was chill and fun."
Additionally, Carly Hixon '24, committed beach volleyball player, advises those who will soon partake in the process, "Know what you want, don't pick something because you're flattered by the offer, really pick somewhere you like."
Hixon committed to Florida State University (FSU), but after touring the campus she reconsidered her decision, "The athletics [at FSU] were better than Cal Poly and UC Berkeley, but I just didn't like Florida."
She decommitted from FSU and instead committed to University of California Berkeley on account of personal preference for academics and location. 
For some, like senior soccer player Claire Curran, academics and sports programs are a balanced set of priorities. Instead, it is the school's family-like community— similar to Cathedral— that proved to be the most definitive factor. 
She elaborates on how she decided to commit to Boulder University, "I felt at home and they had like a family type vibe… My whole family went here [CCHS] and I didn't want to lose that sense of home." She recognizes the similarities between the programs that contributed to this association, "Being at Cathedral made me feel safe and I can talk to the coaches… I also felt that at Boulder."
The program she was eager to join in college would respect the values that were so delicately fostered as an athlete at Cathedral. This may be one of the few similarities shared between the college application process for committed athletes and typical students. 
In addition to the difference in priorities, these athletes have an entirely different timeline for college applications and decisions. 
After each athlete is permitted to talk to prospective coaches, they showcase their skills to coaches by providing them with highlight videos and by attending athletic showcases. Based on this, schools are allowed to offer spots on their team, which the athlete can accept or deny. If the offer is accepted, the position will be reserved until signing day during the athletes' senior year of highschool. 
This entire process is unconventional, of course, but does it make it any less stressful? It is true that shifting the stress earlier has its share of benefits, but it also makes student-athletes susceptible to a lack of preparation.
Hixon describes it perfectly, "The stress moved from senior year to sophomore year," although she prefers this, she warns, "As a sophomore, people don't really know what kind of school they want to go to." 
Additionally, she explains how she will miss out on the excitement of the college decision process in exchange for the stress. Many agree that this is a fair trade.  
Hixon and Curran relate to each other, as both UC Berkeley and University of Boulder don't require athletes to submit essays. For Hixon, besides her GPA, the remainder of the typical application process is waved, ei. letters of recommendation, standardized test scores, and essays. They admit their admiration for the endurance required to succeed strictly through academia. 
The athletes' process, however, is extremely time sensitive. Venverloh finds relief in this, he explains, "Getting the weight off my shoulders as early as possible relieved the questions of whether or not I was going to commit." 
However, some find this rigor adds to the stress. Mahoney reflects, "It's super nerve racking because you gotta choose where you want to go for four years in only two weeks," he continues, "I am relieved because I don't have to take the SAT or ACT— which seems pretty hard, but the time when we have to make the decision is fast. It's hard too."
Despite the different challenges athletes face during this time, many students at CCHS continue to succeed in their athletic endeavors. These students deserve endless admiration and congratulations for their accomplishments in light of the unconventional process, time sensitivity, and stress they underwent. 
Curran concludes with advice to students-athletes who intend to soon take on this challenge, "Don't rush the process, wait until you find the sense of home." 
Leave a Comment
About the Contributor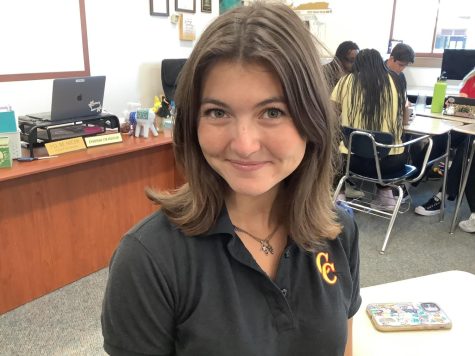 Sarah Brown, Co-Editor in Chief
Sarah Brown. Cheerleader, journalist, and vegan. Sarah has three siblings, all in college and her sister attends Colorado State University. She failed...