How is the Super Bowl Linked to Food Waste?
Every year, Americans across the country look forward to watching the top two football teams play against each other, and seeing who will earn the title of winning the Super Bowl.
This year, the Kansas City Chiefs played against the Philadelphia Eagles in Glendale, Arizona.
Just as exciting as it is for fans to see the biggest football game of the year, "The Super Bowl is the second-highest eating day for Americans (behind Thanksgiving)" said Jennifer Bubel. The food consumed during the Super Bowl is one of the best parts of the day.
"In America, nearly 40% of all food is wasted", states Feeding America.
According to Restaurantware, 66% of take out orders are pizza, 1.25 billion chicken wings are eaten, millions of chips are purchased, approximately 139.4 million pounds of avocados are purchased, 3.8 million pounds of popcorn is eaten, and 2.5 million pounds of nuts are eaten.
Across the United States, homes, restaurants, and bars are consuming all kinds of food and beverages. Parija Kavilanz stated, "while food is an essential part of Super Bowl celebrations, food wastage doesn't have to be".
Because food has a big role during game day, food waste is more prevalent. With the thousands of Chiefs and Eagles fans in the stadium, thousands of pounds of food is stored and prepared to sell to fans through concession stands.
To fix the issue of food waste, Kavilanz stated, "On Super Bowl Sunday, an army of volunteers will be ready outside and inside State Farm Stadium." Kavilanz added that their mission is to "recover and redistribute a tremendous volume of surplus food."
Organizations are focusing on finding ways to cut down on at home waste and using unused food to help those who don't have access to their next meal.
For example, Symmes states that the 'Make Taste, Not Waste' campaign is "designed to inspire people around the world to be more resourceful with their food." Their goal is to reduce food waste by 50%.
Symmes added that "to reach this goal, we're helping educate, inspire action, and change people's behavior to combat food waste at home, while working to help enact policy change at the federal level."
Regina Anderson, the executive director of the Food Recovery Network (FRN), is putting together a campaign in order to save leftover food during the Super Bowl. Kavilanz shared that they are going to be "equipped with refrigerated trucks, pallet jacks, and lift gates, FRN and other groups will move some of what the National Football League estimates can be as much as 140,000 pounds of dontable food and beverage generated by Super Bowl events".
"The Super Bowl is as much an annual food event as it is the biggest sporting event of the year. But while food is an essential part of Super Bowl celebrations, food wastage doesn't have to be," states Kavilanz.
"Food waste has long been an issue at the game and in the country broadly, but the rise in food insecurity during the pandemic has only added urgency to tackle the problem" she shared. This is the FRN's third attempt in organizing a Super Bowl food rescue effort. Their organization is nonprofit, and Kavilanz stated that it was "founded by students in 2011 to combat food waste on college campuses."
Erin Price, program manager of FRN, shared that "this year, we're still very mindful of the lingering impact that the pandemic has had for people and families across the country. The Super Bowl offers a great opportunity to
increase food donations for people who are experiencing hunger and food insecurity in the Glendale and the Phoenix area."
The FRN is expecting to collect about 3,000 pounds of food from the 2023 "Players Tailgate" event, which is set to be hosted by Food Network star Bobby Flay.
Kylie Kinnet, CEO of Bulls Eye Event Group, is expecting "as much as 10,000 pounds of food — hot dogs, hamburgers, ribs, steak, and more will be used from the time the party kicks off at noon local time through the duration of the game."
"Once the tailgate winds down", Kavilanz shares, "there's only about a two-hour window to keep the leftover uncooked and cooked food safe for consumption. Student volunteers from Northern Arizona University's FRN chapter will scoop up surplus food, load it into a refrigerated truck and quickly deliver it to the Phoenix Rescue Mission."
Food insecurity has become a serious problem in Arizona. While the Super Bowl is expected to generate millions of dollars for its host city, the Phoenix Rescue Mission is hoping "the one-day affair will help address a more immediate need" said Kavilanz. Maricopa County has a population of more than 4 million people, and struggles with high rates of food insecurity. In 2020, 17.4% of the population in Maricopa County faced it, according to Maricopa County.
On a national level, millions of Americans experience food insecurity and don't know where their next meal is coming from.
"The food that we're getting from the Food Recovery Network on Super Bowl day will provide substantial help to us", said Jussane Goodman, director of community engagement with the Phoenix Rescue Mission.
Goodman stated that they are "providing food to 270 to 300 families a day, we need all the food we can get".
Goodman shared that the pandemic played a role in triggering families to need food assistance. Recently, families in the county are struggling with higher grocery prices for food essentials and job losses.
After collecting unopened and touched food, the "food and beverage collection will continue into the week after the game and will be delivered to area food banks, shelters, and food assistance programs," said Hillary Bryant.
She stated that "recovering food that would normally go to waste is essential to the planet and people of Arizona. This food ensures that those nonprofits can continue their missions and best serve those in the Phoenix Valley."
We all have a role to play in limiting the amount of food waste in our country. There are many ways we can help prevent this issue, for example, properly storing food, using leftovers, or sharing with others.
Leave a Comment
About the Contributor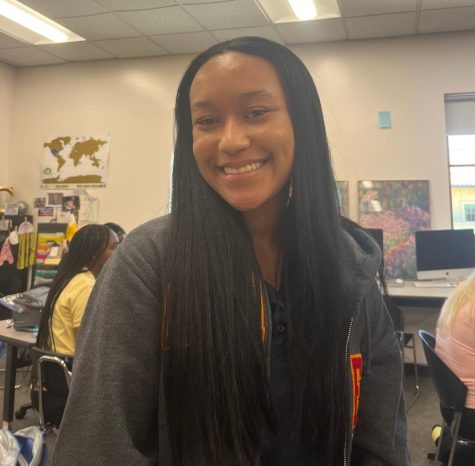 Carissa Vanzant-Thomas, Assistant Marketing Editor
Carissa Vanzant-Thomas, a junior at Cathedral Catholic High School, recently joined the El Cid Online staff. Vanzant-Thomas is eager to start writing for...