Journey to 1000
For a high school boys or girls basketball player, scoring 1,000 career points is the ultimate goal. This past Friday, February 3rd, star player and captain of the basketball team, Shea Fitzgerald, left his heart on the court as he accomplished this dream. A player doesn't score that many points by accident. There is a lot of work that goes into it, as well as other circumstances.
Basketball is different from any other sport for many reasons, including the physical toll it takes on your body. In order to play basketball, players have to be in great shape if they wish to be a successful contender due to the constant running, jumping, and cutting, separating it from other sports. In addition, basketball is different from other sports because of the limited number of 5 players on your team and the court at a time. In some sports there are much more, and in others there are less. This forces you to have a close, good relationship with your teammates because you have to rely on them, as they rely on you.
Fitzgerald explained that his journey to 1,000 began as a little kid, when he played a variety of different sports, "being part of a team was something I always enjoyed and it was how I made friends. Of these sports including baseball, soccer, basketball and football, basketball was always my favorite." Fitzgerald loved the idea of having 5 teammates on the court, shooting the ball, and getting to run up and down the court without many breaks, "Ever since first grade, I just fell in love with the sport." He continues to tell that his family was rooted in basketball, leading him to automatically feel a connection with the sport from the time he was young, "my older brother played basketball growing up, and my dad coached our teams so it was always a friendly competition between the two of us."
At Cathedral, Fitzgerald favors the competition and the expectations, "we play a tough schedule and are viewed as a solid team by our opponents every year. I love this because it teaches you to never take a game or an opponent for granted. It also allows me to be seen by more college coaches than other highschool players, because we are playing in bigger games. As for the sport itself, I love the pace of the game. I find so much value in the idea that you can make a bad play and within 5 seconds you have an opportunity to redeem yourself."
Leading up to scoring his 1000th career point, Fitzgerald says he felt a mix of joy, nervousness, and excitement, "I was lucky enough to have it happen on Senior Night, so I was already filled with joy and gratitude. I was a bit nervous because there was some doubt if I was going to surpass the number. Along with that, the score of the game was a bit closer than we expected, so I was focusing on winning the game before actually scoring the points. After I scored it, I just felt thankful. Not many people get to accomplish that, and I was thankful that I was in the position to do it."
Fitzgerald tells us that in order to prepare for games, he reminds himself why he plays. Whether it is a huge game or a very minor one, he says that he always tries to remind himself that, "I play basketball because I love it, and that usually helps to either calm me down, or pump me up. In the locker room before games, my teammates and I listen to music and talk about what we plan to do. We try to have a good balance between excitement and calmness." On the court, it's Fitzgerald's job as captain just to make sure all of his teammates are ready to go before he gets "locked in."
Aside from scoring his 1,000th point, Fitzgerald has extensive accomplishments from his career; CIF Open Division Runner Up in 2021, making the All-Western League Second Team in 2022, and making the Open Division in 2022. Fitzgerald hopes to make another Western League team this year, as well as an All-CIF team, and additionally tells us, "hitting a buzzer-beater last year versus San Diego High School is another memory I will never forget."
As a graduating senior, Fitzgerald plans to attend Vassar College while continuing to play basketball there for the next four years. He explains that he chose vassar because of the amazing opportunities for him academically and athletically, "the coaches are great, it will set me up for my future beyond college, and I have heard nothing but positive things about the school. One thing I love about the school is the advantages you can use once you graduate. Going to one of the top liberal arts colleges in the country will serve me well for years to come. I am super excited to play basketball there because it is a new opportunity to make lifelong friends, have fun doing what I love, and continuing to learn. I have already begun getting to know my future teammates and I am super excited to start a new journey of my life with them."
When Fitzgerald graduates, he understands the immense leadership role he is leaving behind but says he looks forward to seeing Andrew Garcia, Patrick O'Brien, and Amon Andrews step into it. Describing each of these players, Fitzgerald elaborates, "Garcia is a really good player who will have much more opportunity in all aspects next year. Andrews is a sophomore who works very hard every day to get better. His work ethic will pay off in the next couple years as he will have many more chances to prove himself. O'Brien plays with a lot of energy and if he can be a good leader, the team will be in good hands. "
While excited to start his new journey, leaving this one in the past, Fitzgerald tells us how much he is going to miss this program and the bonds he's made on this team, "I think I will miss my senior teammates the most. I have been playing with these guys for 4 years and they are some of my closest friends. I am definitely going to miss competing with them on the court at practice, our post practice and post game talks, and our pregame locker room rituals. I will also miss my close friends who aren't on the team. We have all made so many memories together and I will miss them so much."
The 1,000 point mark is an extremely rare experience for high school basketball players, requiring motivation, skill, and dedication. Shea Fitzgerald possesses these qualities and Cathedral Catholic is proud to call him one of our own. Continue to watch Fitzgerald and his team tonight at 7:30 at San Diego High School and in playoffs beginning next week. Good luck to the team!
View Comments (1)
About the Contributor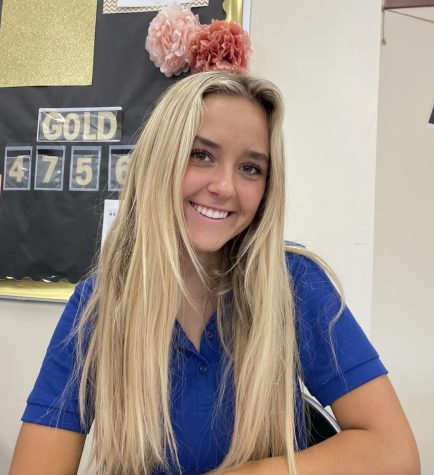 Cassidy Smith, Staffer
Cassidy Smith, first year staffer, cheerleader, and voted "most likely to go Greek," has always. had a passion for writing and is ecstatic to use her...