Swift Breeze to Victory
Girls Basketball season is on a roll. The girls are starting their league games with a solid 3 win streak! On January 20th, the Lady Dons Varsity Basketball team took on Lincoln High School Girls Varsity Basketball team. And then with a swift breeze, the lady dons maintained a leading score and ended the game with ease, score being 57-16.
With the starters, Ava Lomahan #4 playing as point guard (24'), Alana Brackett #3 playing as point guard and shooting guard (24'), Gizel "Gizmo" Navarro #32 playing as point guard (23'), Maisyn Clements #11 as shooting guard (24'), Maddie Moeller #24 as guard (25').
The game happened at home and Cathedral maintained a strong lead throughout the quarters. Coach Turpin the head coach of the Girls Varsity team gives us a wider intake and her opinion on the game, "I thought it was one of our best all around games, played really well offensively and defensively; we did really well in the middle third of the quart, took care of the basketball, made some great decisions, and it was probably again one of our best all around games".
Coach Turpin continues to talk about the girls bond and "togetherness" throughout the game, "It's a season long process, there's a mix of returners and new players, so throughout the season creating different activities or things where they are communicating with each other". Which ultimately leads to the point on how they communicate on the court, "Team, connectedness, are severely things, but we want to work hard to get the easiest shot".
Entaking Coach Turpin's response, the girl's on the team tell us their perspective of this game and season so far. Ava Lomahan (24') fills us in on the season from her perspective, "I feel that the team has grown a lot since the beginning of the season. With all of our senior from last year gone, we definitely had to do some rebuilding this year. So far, everyone has done an exceptional job stepping up and doing their part on the team".
She continues to talk about some improvements, "Something that has improved greatly is the chemistry within our team. Although there are a few refinements here and there, we have learned the playing styles of each player and how to adapt to one another while playing great basketball".
Lomohan also points out, "someone who demonstrates great leadership on the team is Gizel "gizmo" Navarro. As one of the seniors on our team, she has done an amazing job helping the new girls on the team, as well as making huge contributions during the games. Maisyn Clements and Alana Brackett are other players on the team who demonstrate what it means to be a don. They bring immense energy to the team, which is crucial." Gizel fills us in on her thought process throughout the game, "throughout the game its mostly just keeping my teammates organized, and making sure everyone is in the correct placements, and thinking about the plays I'm going to call".
As in the struggles our Girls Basketball team has been going through, "The team has been struggling with this season is not having a designated center and transitioning to a style of basketball with mostly guards. It is tough when we face an opponent with a strong center, but we fight back with our fast ball movement and shooting", states Lomohan. Navarro (23') goes further in depth on the same topic, "Challenges would probably be Scripps Ranch and Mission Hills, against Scripps it was mainly adjusting our whole defense and making sure that we are aware of our placements, since they move the ball pretty quickly. For Mission Hills, it would also be the defense, just adjusting to positions on three's, and making sure to be out there on time, and to make sure everyone on defense helps out"
Some future games to look forward to and most definitely to come out and support our Lady Dons Varsity Basketball team, "looking forward to playing against Scripps Ranch and OLP. We are excited to face them again on our home court in the upcoming weeks", Ava Lomahan (24') states.
Some of the top highlights include off of a out of bounds play, cathedral swings the ball around to an open three pointer for #24, Maddie Moeller (25'). Cathedral continues to push the ball up the court for a nice drive by #4, Ava Lomohan (24'). Grinding through, Cathedral runs a nice play around the wing to set up a nice layup inside for #3, Alana Brackett (24').
The girls are working hard and grinding through the season, they next game will be on January 7th, at home. Be there to support as the Lady Dons Varsity Basketball team concludes they 2023 season.
Leave a Comment
About the Contributor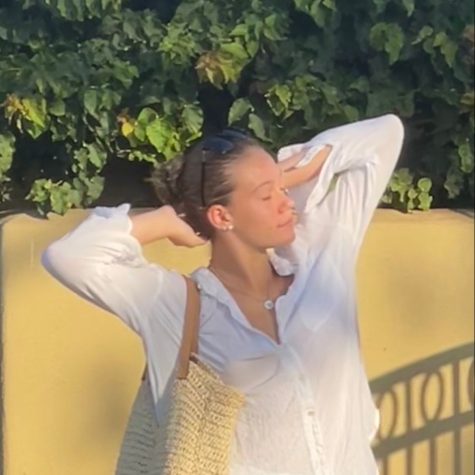 Nicole Nazemnikova, Staffer
Born in raised in Los Angeles Nicole moved to sunny San Diego as a child. Her first language was Russian thanks to her parents who are from St. Petersburg...