To Lose With Grace
Cathedral vs. Mission Bay
Boys Basketball season has begun! Starting off with a trip to Hawaii for the Punahou Invitationals! Where the boys got to gain experience of playing different teams, Matthew Schilling stated, " Hawaii was a really good bonding trip for the team and a lot of good experience playing teams with different play styles". On January 10th the Boys Varsity team played their second league game against Mission Bay High School, with the starters Tre Lucia as number 3 playing shooting guard (23'), Andrew Garcia as number 4 playing point guard (24'), Thomas Flemming as number 5 playing shooting guard (23'), Brody Seiber as number 10 playing small forward, shooting guard, power forward (23'), and Ryan Enos as number 23 playing center (24').
The game happened at home and Cathedral took a loss against Mission Bay, after battling and scoring hoops against their strong defense, with the end score 46-61. Scotty Prunty, the Boy's Varsity assistant coach and past member of the Boy's Varsity Basketball team, alumni class of 2020, giving us more details on the game, "The game was a tale of two halves. We knew coming in, that playing against Mission Bay was going to be a battle. They're one of the better teams around the county, and us and them always make for a competitive Western League matchup. At the end of the day, we didn't make enough plays in the second half. We had a solid start to the game and were up 10 with about a minute to go in the first half, but turnovers and lack of quality shots really hurt us from that point forward. Despite all that it was still 40-40 heading into the fourth quarter. The 0-2 start to Western League play is not what we envisioned but our goal is to bounce back, learn from it, and move up in the standings".
Going in depth Brody Seiber (23') tells us more about their season and growth, "We are off to a good start, but are always looking to improve. One of the highlights in the season so far was Luke Tadros coming in during a crucial game versus Steele Canyon and hitting 4 three's to help us get the win". Seiber continues to tell us about some improvements the team is working on, "As a team, we are working on sharing the ball more to create open shots for everyone on the floor. Also working on our defense every practice to help minimize any mistakes we might have. Our team's physicality in practice has been a huge factor in helping us prepare for big games". Talking about seniors graduating and leaving the legacy to the younger players, let's see who Seiber finds the biggest improvements in, "I feel Andrew Garcia has done a great job stepping up in the absence of our starting point guard, Shea Fitzgerald. He shares the ball well and his leadership and physicality have been key to our team's success". Tre Lucia also added in, "He is a guy we're starting to trust more and more every time the ball is in his hands. He knows exactly where everyone is going to be and it is easy for him to drive and create opportunities for everyone else". Growing and bonding with each other, what is their main goal of the season? Tre Lucia answers that question, "Our team goal is to finish off league with a big winning streak to push for playoffs. No matter what division we are in, our goal is to win CIF and end off the season with a ring". Tre Lucia filled us in on who the team is looking forward to playing against and the game we should all look forward to watching, "Saints is definitely the game we all have circled on the calendar. The rival Saints are a good team and have been ranked number 1 in San Diego since the start of the season. We are the underdogs and that's another thing to get us motivated for this rivalry game."
Highlights from the game in the first half with Cathedral being 10 up, the team broke full court press with good passing from #4 (Garcia 24') getting the assist to #3's (Lucia 23') and-one layup. From the second half of the game, the team once again broke the full court press, and then scored on the defense through an array of passes on top of three point line for a three pointer by #3 (Lucia 23'). #3 (Lucia 23') then grabbed an offensive rebound and scored inside the paint with a pump fake move.
Cathedral's Boys Varsity Basketball team are on a roll and are motivated to be bouncing back up and raising those winning streaks in no time. As in for the lesson learned, if to lose, to lose with grace.
Leave a Comment
About the Contributor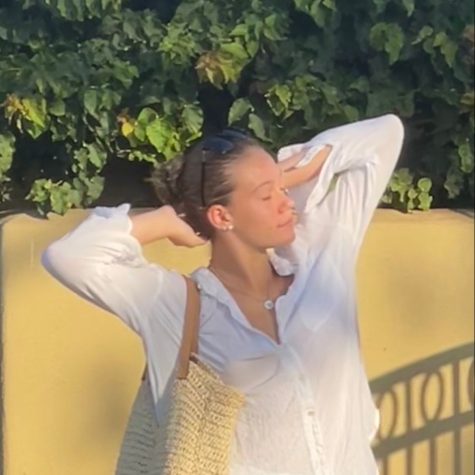 Nicole Nazemnikova, Staffer
Born in raised in Los Angeles Nicole moved to sunny San Diego as a child. Her first language was Russian thanks to her parents who are from St. Petersburg...