What is MEER?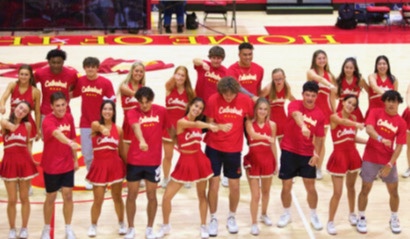 This week, the Cathedral Catholic Varsity cheer team began practices for their "MEER" performance. You may be wondering, what exactly "MEER" is. "MEER" is a combination of the words "man" and "cheer." To further explain, the whole process is when each member on the squad selects one male partner of their choosing. From there, cheerleaders and their partners attend around 4-6 practices during the months of December and January.
At practice, they will learn a routine that consists of silly dance moves, that MEER team member and senior, Blake Behmer, describes as, "definitely out of [his] comfort zone but so much fun." He goes on to explain that, "The whole MEER experience so far has been so exciting and I've loved spending time with my best friends while getting to know more people in the process." When asked his favorite dance move in the routine, Blake Behmer told us, "My favorite move in the routine so far would have to be the two person cartwheel I perform with my partner, Danielle Corrao."
Danielle Corrao is a captain of the cheer quad and explained that she "has loved having the privilege to choreograph the routine with my fellow captains, Olivia Swanson, Natalie Mamaril, and Nicole Moore." Like explained, the captains created and choreographed the entire routine from formations, finding the perfect music, fabricating stunts, and having to balance not only a team girls but now boys as well. Absolute chaos, if you ask me.
The performance of the finalized MEER routine will take place at a basketball game most likely in January or February, however the date is still to be determined. So stay tuned for the date to be announced and attend the hilarious performance that are guaranteed to make you laugh.
Leave a Comment
About the Contributor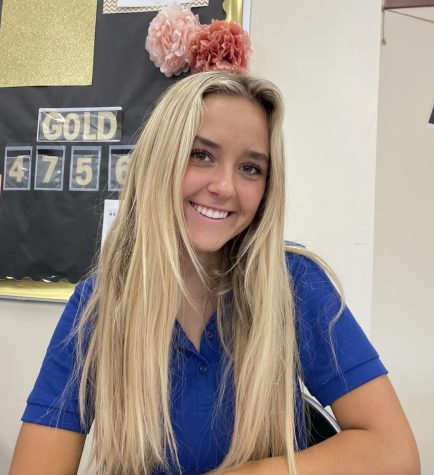 Cassidy Smith, Staffer
Cassidy Smith, first year staffer, cheerleader, and voted "most likely to go Greek," has always. had a passion for writing and is ecstatic to use her...