Padres Find Their Identity at the 11th Hour
It goes without saying that the Padres have been on a tear lately. After losing every series to the Dodgers in the regular season, the Pads took the NLDS for the first time in 1998.
The Dodgers may have taken game one, but the Pads struck back after winning out. Petco Park was absolutely wild after the Padres took game four Saturday night.
Dodgers manager Dave Roberts stated on March 24, "We will win the World Series this year. Put it on the record."— and boy was he wrong.
The Phillies arrived in town on Tuesday for game one of the NLCS. It was a quick game where the Pads were both out pitched and out hit. Bryce Harper sent one in the 4th inning for the first points of the night. Kyle Schawarber's solo homer in the 6th inning traveled 488 feet—the longest distance a ball has traveled in Petco Park history. A 2-0 Phillies victory was quite unexpected for Pads fans.
I was at game one along with 44,826 other fans. Though the outcome wasn't what was expected, the stadium erupted in the bottom of the Ninth. With Profar and Soto on base, everyone in that crowd thought Machado was about to hit a walk-off, but unfortunately his hit flew out.
Wednesday night, in game two, the Padres showed what they were about. In the 29 minute 5th inning the Padres scored 5 runs to take the lead, with one run in the 7th and two in the 2nd, the Padres needed 6 outs to take game two and they got them. Sheer joy exploded from the crowd of 45,000 fans as the Padres tied the series. Game three, on Friday at 4:37, will be the Padres at Phillies — it should be a thriller.
The City of San Diego has been electric with Padres love. Unity is seen across town, hoping the Padres can go the distance.
Leave a Comment
About the Contributor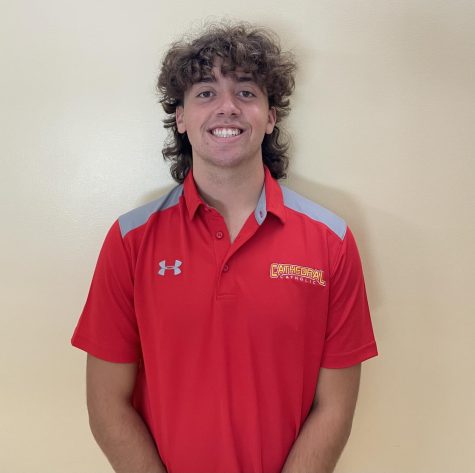 Mason Thompson, Staffer
Mason Thompson has lived in Scripps Ranch his whole life. Mason is excited to be a part of the El Cid Online staff because he can finally say what he wants...