Around the World: Flying, Flipping and Fake Tans
Koreans flying overhead on my left and the Swedish to my right. Canada and Japan occupying the rows surrounding me on the bus. 3,000 international athletes brushing past me in the crowd, each intertwined by a passion for flipping, jumping, and flying. Each athlete with their eyes on the prize, the Summit International championship ring.
Varsity Spirit's first live Summit International competition in Orlando, Florida since the pandemic is reflective of worldwide unity, which has been scarce since 2020. What better place to host such diversity than Walt Disney World, a timeless, worldwide phenomenon?
This is not a tournament codependent on one's success causing another's failure; a solid defense aiming to block offensive success. As many "good luck" calls soar from one team to another, one can only hope bad juju will knock their competitors pyramid into last place.
Because there is no direct defense, teams spend the season working tirelessly to create the most creative and technically difficult routines to perform, so as to outshine any opposition.
The season typically begins in May and continues through the end of the competition season, the next April. Early practices skill build stunts and tumbling to prepare for the competition choreography. Once the routine is choreographed, the remaining practices condition the athletes for the stage, clean technique, and increase difficulty.
Like most other sports, cheerleading faces mental obstacles. The objective is to push one's body to its limits for two and half minutes – creating the most precise and creative spectacle. No amount of practice can guarantee hitting zero, when a team has zero deductions on their scoresheet, so the backstage anticipatory nerves can be overbearing.
Teased ponytails and questionably orange tans parade the springed mat with a series of tumbling passes, elite stunts, basket tosses, jump sequences, pyramids, and dance motions to a personalized eight count track – all to receive a bid, or an invitation to Summit International.
After working all season to get the bid, qualifying teams compete twice in Orlando before judges determine the winners.
Win or lose, teams from around the world never fail to return the next year to feed the universal passion for the thrill of all star cheerleading.
Leave a Comment
About the Contributor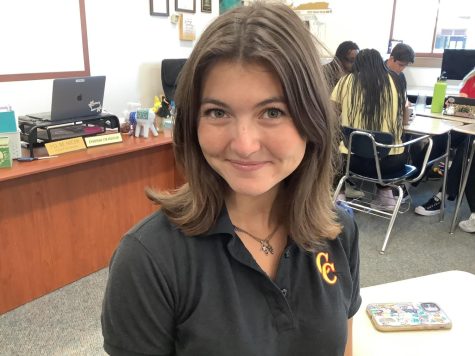 Sarah Brown, Co-Editor in Chief
Sarah Brown. Cheerleader, journalist, and vegan. Sarah has three siblings, all in college and her sister attends Colorado State University. She failed...