Boys Soccer is Hitting their Goals!
As Dons spring sports kick off, Cathedral Catholic's Varsity Boys' Soccer team had an amazing season this year that shouldn't go unnoticed. They came off of a remarkable previous season after being named Open Division Champions, aka the best soccer team in San Diego County. They clenched the title back in May 2021, which is a unique feat, especially considering the unprecedented nature of the 2020-2021 school year.
Typically during a high school soccer season, the CIF championships take place in late February to March, however, CIF didn't allow sports to occur until February 2021. Sports were placed into specific categories of contact so athletes could safely play their sport without contracting Covid. Seasons were also shortened with multiple practices and games a week. Boys soccer was pushed back to take place later in the spring, based on the risk of it being a high contact sport. Despite the pushback, the Dons proved that Covid challenges wouldn't interfere with their game and surpassed their limits.
The Dons came out on top clutching this significant title in May. This wonderful and surreal moment was right at the end of the 2020-2021 school year. This meant that as a community, their incredible season and postseason wasn't recognized or celebrated as much as they wished it had been.
Coming off the high of their CIF victory, the boys entered the 2021-2022 season confident, ready to kick it up a notch, win, and play their hearts out on the field. However, becoming a winning Open Division team requires several hours of dedication, preparation, drive and a balance of practice and rest. 
At practice, the players scrimmage and run plays that they utilize when it is game time. Besides physically moving on the field, the team prepares for each game by watching film of their previous games together. They talk strategy and observe their opponents to know how to be efficient with their plays and the ball. The boys, along with their coaches, bond over the moments that took place in those games such as goals, spectacular passes, and discuss strategies utilized in those specific times. 
This year's team is senior heavy with a total of 14 graduating seniors, including 15 with team manager Emilie Carbine. The seniors make up an essential part of the team, since many of them are returners and are role models to the younger players. In the From Don to Don Podcast, senior standout soccer players, Robert Ronco and Joe Montali, came on to discuss their season and their passion for soccer. When asked about their team this year, in comparison to last year, their responses are key to highlight. 
"I feel like this year compared to last year is very much a team vibe like we have a lot of players who really wanted it. I don't think technically we are as gifted, but we have a lot of players who really wanted it. We have players who have the drive. It's just as soon as we start connecting is when we are a really threatening team and when we're probably one of the best in the county."
Ronco compares the team to last year's by mentioning that there is a more evident team aspect than previously. He also embraces that the team may not have the talent, but Ronco continually emphasizes how their motivation overrules that and the connections as a team serve as a threat to various soccer teams in the county. 
"What I really like about this year is that a lot of the people from our CIF team last year were saying: 'We wouldn't be able to contend this year at all and we wouldn't be even remotely as good as we have shown we are.' We play with pride in that and you know with a whole new squad, a lot of sophomores and young talent is cool to see that you know that we are putting something together."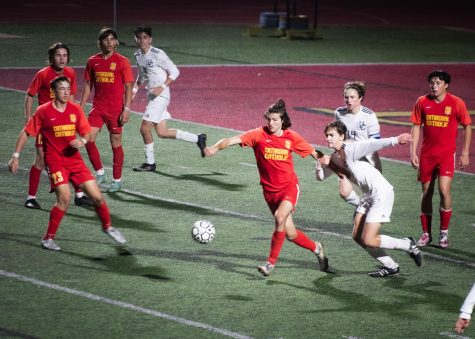 Montali speaks on the doubts many of the returning players had when entering this new season, however the Dons have absolutely displayed their greatness in the field, especially making the Open Division Playoffs again this year. Besides that, Montali asserts how the new team, especially made up of younger players with talent, is a joy to see and how interweave their gifts into this year's team.
Both Ronco and Montali also expressed that they both have known head coach Nate Hetherington outside of Cathedral. Hetherington coaches for Rancho Santa Fe Attack, a club team that many Dons soccer players compete on outside of school like Ronco and Montali. Coach Hetherington has been coaching the boys team at Cathedral for over 10 years and has won 3 CIF Open Division Championships. 
"I enjoy coaching at Cathedral because of the culture throughout the school. You are encouraged to work hard with your studies, and most importantly be a good person."
Hetherington loves coaching at Cathedral because of the school's encouragement of shaping Dons to be well rounded people once they graduate and move onto the next chapter. The school implements a lot of school work, but they push the students to be the best individuals they can be, which pays off on the field. 
The ultimate goal of this year's team was to win another Open Division title, especially since the team claimed the title last year. The Dons had a decent season and appeared in the Open Division Playoffs for the tenth year in a row, but fell just short against Torrey Pines. However, these results from playoffs shouldn't take away from the success that the team has had over the past two years. 
Success also lies within the players, especially the few who have committed to playing soccer in the next chapter of their lives. Seniors Robert Ronco, Brady Bachman, and Stefano Brunetto have all recently announced their official commitments to play soccer at various colleges in California. Ronco is off to Vanguard University, while Bachman is heading to the University of Redlands. Last but definitely not least, Brunetto just revealed that he will be continuing his soccer career at Cal State San Marcos. 
All in all, the Dons look to come back next season sharp, strong, and hitting their goals!
Leave a Comment
About the Contributor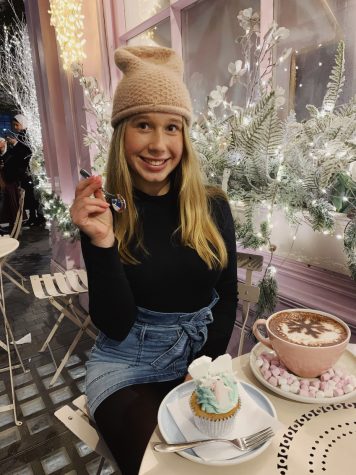 Sahara Kiskis, Features Editor
Entering her Senior year and first year with El Cid Online, Sahara Kiskis is excited to serve as the Features Editor. Sahara is a bubbly, compassionate,...