The Cost of Olympic Gold…
So you're watching the Winter Olympics this year, but you don't know anything about the Women's Figure Skating event. The Women's Figure Skating Event podium for the Winter Olympics this year is expected to be a full Russian sweep. In fact, the top three contenders, Kamila Valieva, Sasha Trusova, and Anna Scherbakova, all hail from the figure skating team, Sambo 70. All three girls are trained by the same head coach, Eteri Tutberidze. All three girls are on the same team, training at the same rink in Moscow. So how did this come to be?
Kamila Valieva, age fifteen, currently holds the titles of 2022 European Champion, 2020 Junior World Champion, and Junior Grand Prix Final. She holds all world records for the short program and free skate and is expected to easily secure Olympic gold. 
Alexandra "Sasha" Trusova, age seventeen, won bronze in all recent competitions of the season (Stockholm, Graz, Tallinn, Grand Prix Final). She is also known as the "Quad Queen", due to her great influence over the figure skating industry. She holds the title of the first female skater to land the quad Lutz, quad flip, and quad toe loops. She is the only female skater to compete with four quad jumps and competes against Anna Scherbakova for Olympic Silver or Bronze.
Finally, Anna Scherbakova, age seventeen, won gold at the 2021 Stockholm, and silver in all other categories (Graz, Tallinn, Grand Prix Final). She is the 2021 World Champion, and the first senior woman to land a quad Lutz, and the first woman to land two quad Lutz in a single program.
Their victories are narrowed down to a single person: Eteri Tutberidze. Tutberidze is a Russian figure skating coach, and head of Sambo 70. Her notable students include: 2014 Olympic competitor Yulia Lipnitskaya , 2018 Olympic and World Champion, Alina Zagitova, two-time World Champion and 2018 Olympic Silver Medalist Evgenia Medvedeva, European Champion Aliona Kostornaia, and of course, Kamila Valieva, Sasha Trusova, and Anna Scherbakova.
So how does this work? How is it that practically all of her students become world champions? The answer is: Tutberidze's extreme training.
Students have noted that she is extremely critical and her feedback is harsh. However, they also mention that she is only honest, and does not have any intention of being rude. During their run-throughs of their difficult programs, Tutberidze would write her feedback on a piece of paper. 2018 Olympic Champion, Alina Zagitova, is recalled to have never thrown away a single slip that she was given. 
Outside of the rink, the girls are put on strict diets, ballet practice, and physical training as well. They are often weighed, because sudden changes in weight conflict with their ability to jump. Their diets, while strict, are not enforced by Tutberidze. They are expected to maintain their light weight, with 2014 Olympic Champion, Yulia Lipnitskaya most notably relying on a diet of powdered nutrients. 2018 Olympic Silver Medalist, Evgenia Medvedeva, half-starved herself during the training, and 2018 Olympic Champion, Alina Zagitova, lost an extreme amount of weight in order to jump quads and reduce the risk of injuries.
However, anorexia is a serious problem for Team Tutberidze, first starting with Yulia Lipnitskaya, who was hospitalized for her extreme diagnosis. In fact, this applies to all figure skaters who skate on an international level. However, Team Tutberidze does not allow girls to eat or drink before their competition. This was exemplified during the 2018 Winter Olympics, when all figure skaters were drug tested. Olympic Champion Alina Zagitova took 5 hours drinking water continuously before she was able to complete the urination test. 
Besides anorexia, most girls also get extremely injured. Alina Zagitova announced her temporary, yet still ongoing, hiatus after the Winter Olympics of 2018. Many speculate that the training during the Olympics was extremely harsh to her health. 2018 Olympic Silver Medalist, Evgenia Medvedeva unofficially retired due to permanent back damage. Even Tutberidze's current skaters get injured and miss important events. However, some continue to skate through their injuries. Scherbakova and Trusova were present at European Championships, and were clearly injured, but continued to skate, risking further injury.
Injuries are a common reason for figure skater's retirements. In fact, Team Tutberidze has an infamous 'expiration date' for their skaters at age 17. This is the age when most of their figure skaters retire due to injury or other circumstances. Their unhealthy training methods only adds to this, because the incredible jumps performed are dependent on young, light bodies.
Despite these dangers, Tutberidze has stated that she is aware of the great pains that her students go through, however their pains are washed away when they receive gold. This seems to be true, in the mindset of her students who continue to skate and risk their careers for the taste of gold. Now, this harsh training has led to the practically inevitable Russian sweep of the Female Olympic Figure Skating Event. 
On Tuesday, February 15th, at 3am PST the Women's Short Program will be occurring. On Thursday, February 17th at 3am PST, the Women's Free Skate Program will be occurring. All Winter Olympic Events can be watched on NBC. Turn on your TV, and watch these Russian girls dominate the Olympics.
Leave a Comment
About the Contributor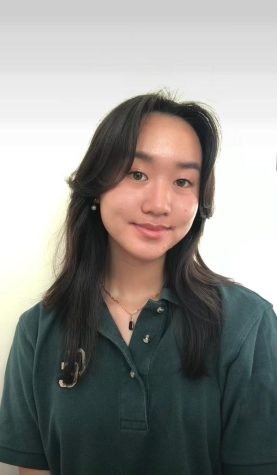 Hong-An Phan, Co-Editor in Chief
Born and raised in San Diego, California, Hong-An Phan is a student journalist for El Cid Online and a junior attending Cathedral Catholic High School....