Dons prepare for perfection
Hang on for a minute...we're trying to find some more stories you might like.
The Cathedral Catholic High School varsity football team, which boasted a 12-2 record last season along with multiple California Interscholastic Federation (CIF) Championships, including winning Division l-AA Southern California Region and the San Diego Section Open Division in 2018, has high expectations for its upcoming season.
"As a team, we share the same goals of going undefeated, winning San Diego and Southern California, then going to State and winning it all," CCHS guard Matthew Mihas '21 said.
CCHS stands strong for the 2019 season with key players and depth on both sides of the ball.
"Offensively and defensively, we have players at any position who can fill the spot of a starter and perform at their best," Mihas said.
On offense, the Dons return southpaw gunslinger D.J. Ralph '20 under center, Matthew Bryant '20 and Zavien Watson '20 in the backfield, and an experienced offensive line led by Logan Berzins '20, Chase Lindgren '20, and Holden Brosnan '20. 
The veteran leadership on the offense creates confidence in the huddles.
"Having such great level of experience, there is a distinct trust and bond between each person," CCHS offensive lineman Logan Berzins '20 said.
CCHS's run heavy offense in the wing-t formation relies heavily on the offensive line in the trenches. Luckily for the Dons, CCHS has an abundance of returning lineman, making the offense operate smooth.
"We have been blocking together for almost three years and can practically run every play without hesitation," Berzins said. "By having such a veteran front that understands and can execute their job in flawless fashion, less time is required to learn and train."
Defensively, the Dons stack up well with veteran players including Jordan Allen '20 and Devin Dye '20 patrolling the middle of the field, while Dee'shon Swafford '21 roams the CCHS secondary. 
"We lost a few players from last year, but we still have a lot of depth," CCHS running back Jack Kilpatrick '21 said. "Strong players playing on varsity this year like Malachi Williams '21 and Michael Nadell '20 were mentored by some of the best players in the county last year."
CCHS feels that it is properly prepared for the season with immense offseason practice and workouts dating back from the Dons last game in the CIF Division l-AA State Championship.
"Starting from December, we have been doing everything from lifting every morning, conditioning, partiiciating in actual field practices," Berzins said. "We have done everything to prepare our minds, bodies, and spirits for peak performance in competition."
The Dons take on a hearty schedule in 2019 headlined with tough out of league matchups against Saguaro High School from Scottsdale, AZ in the Honor Bowl followed by perennial powerhouse, Centennial High School from Corona, CA.
The Dons Western League matchups are no slouch either, as CCHS will face off with the CIF San Diego Section Division I and II Champions, Saint Augustine High School and Abraham Lincoln High School.
CCHS plays the sixth toughest schedule during the 2019 season, according to MaxPreps, but the Dons believe the rigorous schedule will only help them.
"We will be playing tough competition this year, but we like to say that you have to play the best to be the best," Berzins said.
The Dons open the season at home tonight as it takes on an Avocado League squad in La Costa Canyon High School.
CCHS remains positive before strapping on the pads for the first time this year.
"As a team we feel confident going into our first game," Mihas said. "We have worked hard for each other and have become a family."
The Dons open the season ranked 13th in California and 45th nationally, according to MaxPreps.
About the Contributors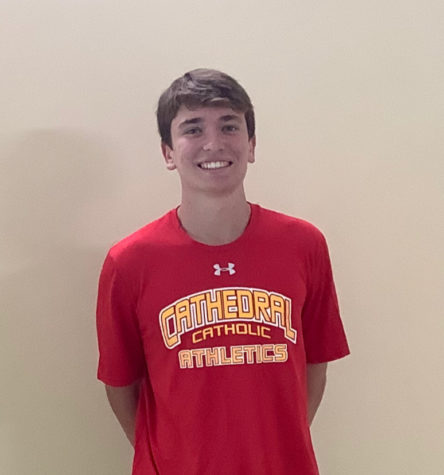 Shea Linnehan, Sports Editor
As the Sports Editor for El Cid, I look forward to furthering the sports section and tradition for Cathedral Catholic High School's student-run publication....