Remarkable Ray rushes the NFL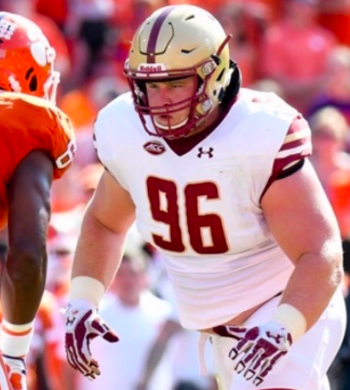 Cathedral Catholic High School alumnus Raymond Smith '15 has chased his dream of playing in the National Football League since he was first introduced to the sport, and the Boston College defensive tackle recently got the nod from the Detroit Lions as an undrafted free agent following the conclusion to the 2019 NFL Draft on April 27.
"It's always been a dream of mine since I first strapped up the pads in fourth grade," Ray Smith said. "It's a great feeling to work this hard for so long and put a lot of work into something."
During Ray Smith's tenure as a Dons football player, he learned the importance of teamwork and individual strength.
"The whole [CCHS] coaching staff did an unbelievable job," Ray Smith said. "They pushed us to be better players, students, and men. Coach Doyle promotes a team-first culture, and the program prides itself on fundamentals and mental toughness."
On the field at CCHS, Ray Smith picked up hardware after his team won the 2013 Division I San Diego Section California Interscholastic Federation Championship. During his senior year, Ray Smith recorded 42 tackles, 11.5 tackles for loss, and 9.5 sacks, racking up college offers from Boston College and San Diego State University.
The similar values instilled by the CCHS and Boston College football programs influenced his decision to become an Eagle.
"There have been a lot of similarities in the programs, and Coach Addazio has set a high standard and high expectations in similar ways to Coach Doyle," Ray Smith's mother Mrs. Kacey Smith said. "Ultimately, I think that the program Coach Doyle created at CCHS was why Ray chose Boston College."
While at Boston College, Ray Smith's dedication prevailed through daily football trainings and by completing a rigorous academic schedule.
"Ray has a strong work-ethic," Mrs. Kacey Smith said. "Football is truly a year-round sport with off-season workouts, lifting, and conditioning. He's had to juggle football and academics, but he's happy with the choices he has made."
Ray Smith's hard work paid off playing under Head Coach Steve Addazio at Boston College. The 6-foot-1-inch nose tackle earned All-Athletic Coast Conference Second Team honors, a bowl win in which the defensive line was named the game's most valuable player, and the opportunity to suit up for an NFL team.
"I'm really happy that my career has turned out the way it has," Ray Smith said.
Ray Smith joins a select group of CCHS and University of San Diego High School athletes to reach the NFL, including Tyler Gaffney '09 and Justin Green '00.
"I'm stoked for the next part of my career, and I hope to make CCHS proud," Ray Smith said.
Ray Smith never disappointed on the gridiron, as his family has enjoyed watching him play at the highest level for years.
Athleticism runs in the family, as younger siblings Isabella Smith '19 and Colman Smith '21 excel in their respective sports for the Dons.
"It's been exciting seeing him compete in the ACC against some of the top competition in the country year in and year out," Colman Smith said. "It makes me happy to see his hard work pay off."
Ray Smith understands the grind of a professional athlete as he prepares for his next football chapter.
"There is more work to be done, but that is when your passion for the sport is tested," Ray Smith said.
About the Contributor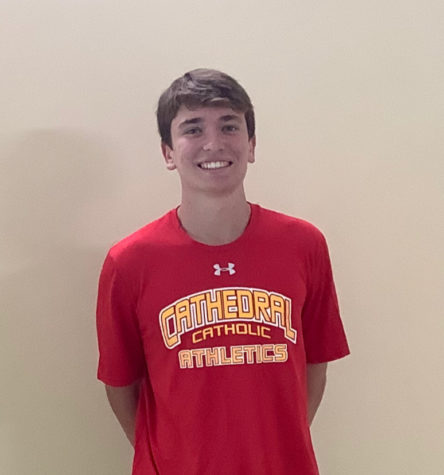 Shea Linnehan, Sports Editor
As the Sports Editor for El Cid, I look forward to furthering the sports section and tradition for Cathedral Catholic High School's student-run publication....