Serving the team
Coming back from 13-19 record last year, the Cathedral Catholic High School varsity boys volleyball team started the 2019 season buoyed by a new coach and a strong start.
After four years with the team, the previous varsity boys volleyball head coach Mr. Paul Araiza left at the end of last season. As a result, the team and the rest of the CCHS community welcomed this year new varsity boys vollyball head coach Mr. James Haug.
"I am excited to bring more camaraderie to the boys volleyball program," Mr. Haug said. "I did know several of the players in [the CCHS] program prior to joining the team and I felt welcomed by the players, parents and administration."
Before coming to CCHS, Mr. Haug coached at La Jolla High School and Otay Ranch High School, where he led both teams to multiple championship titles. However, Haug boasts experience with more than just coaching and motivating his players.
Mr. Haug has coached club volleyball teams since 2005, and he started and directed the Coast South volleyball program from 2011 to 2013, during which time he grew the club to eight teams before moving back to strictly coaching for club and high school teams.
"I have several goals for the [CCHS] boys volleyball program," Mr. Haug said. "I believe bringing more camaraderie to the team should start with having the varsity teams better support the [freshman and junior varsity] teams."
Mr. Haug plans to address the values and mission statement of the CCHS boys volleyball program at parent meetings, but his ethics seem to have already rubbed off on the players.
"I'm so glad to be a part of such an encouraging team," varsity boys volleyball player Chris Buckel '20 said. "Everyone cheers each other on during games whether they are on or off of the bench."
Chris Buckel's brother Patrick Buckel '22, who competes on the junior varsity, feels the love.
"Since the start of the season, the other [varsity and freshman] teams have been really encouraging," Buckel said. "Everyone cheers each other on and I believe our connection helps us grow in our faith as well."
The CCHS freshman boys volleyball team won its recent game against Westview High School, and both the varsity and junior varsity teams stormed the court to congratulate the players after watching the game.
Just like other athletic teams at CCHS, the boys volleyball team prays before each game for player safety and ability for everyone to play at his or her best.
"Overall, my goal for the program is to mold our players into a cohesive group," Mr. Haug said. "We need to trust our teammates to do their job but also emphasize the character of each player."
About the Contributor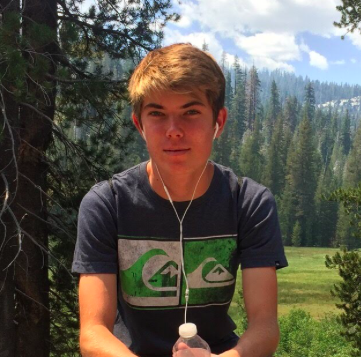 Matthew Rowland, Assistant Features Editor
As a junior at Cathedral Catholic High School, I will work as the Assistant Features Editor for El Cid. I chose to write for the newspaper to expand my...