Dons sail San Francisco
The Cathedral Catholic High School sailing team will compete in the annual Golden Bear Regatta in San Francisco, California this weekend in the team's most anticipated event of the year.
The Dons look to keep the ball rolling after a successful third place finish last year at Golden Bear.
"I think we are going to do very well this year, and our team is very experienced," CCHS sailing captain Kyle Gallagher '19 said. "I know we can pull off a top five finish this year."
The Dons, after faring well all year against its competition, have met expectations and will head into the crucial weekend are confident.
"Overall, we have been racing relatively well in our division all year," CCHS sailor Jake Titcomb '21 said. "When racing against other high schools, we tend to do good."
The rugged sailing conditions and temperatures that the San Francisco Bay brews makes the regatta unique compared to other competitions CCHS has competed in.
"The big unknown about the Golden Bear Regatta is the weather," CCHS sailing coach Mr. Doug Hart said. "The wind could be strong, light, or anything in between."
Teamwork between sailors could pay dividends, as CCHS knows what to do it will face this weekend.
"We'll have to hone our focus and pay attention to the details, such as wind direction and water current," Titcomb said. "Both could greatly impact our performance. We will need to make sure we communicate well between the skipper and crew."
As CCHS adds its finishing touches to practice, the team understands the importance of readiness before the regatta.
"We are in the final stage of preparation for this important event," Mr. Hart said. "Great sailors are quoted to say that regattas are won before the event begins."
The CCHS sailors prepared in relentless conditions similar to the ones it will face at Golden Bear.
"We've been sailing in more wind and doing drills over and over again," Gallagher said. "It's just going to come down to how well we execute."
CCHS alumni and previous team captain Ryan McConville '18 led the Dons to its success in the Golden Bear Regatta last year.
McConville knows the importance of a captain for a sailing team.
"It's important to create an atmosphere where your teammates feel comfortable and confident to do their best," McConville said.
The Dons will compete in the Silver Division, the second highest level of competition, again this year against high schools of a common skill level from all across the Pacific Coast.
"We sailed against sailors with similar experience levels and brought home the trophy last year," Mr. Hart said. "We are more experienced this year, but not quite ready to step up to the Gold Division."
Mr. Hart selected Gallagher '19 (skipper), Grace Lawson '19 (crew), Alex Woodmansee '20 (crew/substitute skipper), Titcomb '21 (crew), Claire Backer '21 (crew), and Michael Murphy '22 (crew) to represent CCHS in San Francisco.
The experienced group of sailors leave today and arrive to the Bay Area for the 2019 Golden Bear Regatta.
"Everyone on the team has gelled a lot more since last year," Gallagher said. "We're more prepared and we know what to expect."
About the Contributors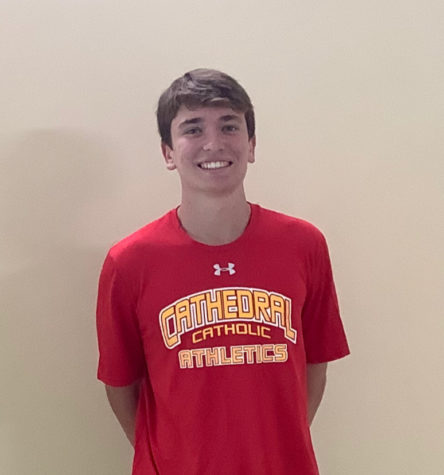 Shea Linnehan, Sports Editor
As the Sports Editor for El Cid, I look forward to furthering the sports section and tradition for Cathedral Catholic High School's student-run publication....