Dons elevate the game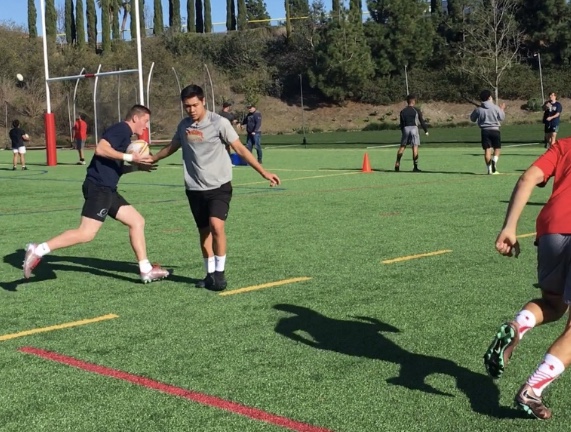 The Cathedral Catholic High School varsity boys rugby team kicked off its season with a five game winning streak, proving it deserved its spot in the new Southern California Interscholastic League, which features more difficult opponents than the ones faced in previous seasons.
The Southern California Interscholastic League attempts to advance rugby programs across Southern California, in order to create even competition across the board, according to varsity boys rugby head coach Mr. Glenn Irvine.
"Rugby is a varsity sport here at CCHS," Mr. Irvine said. "We are trying to get all the other schools to be like us to make sure the sport grows and expands. It's growing, but at times it's a mixed bag. However, with the athletic directors involved it's gaining traction."
The coaching staff also aims to elevate the girls rugby team to the Southern California Interscholastic League by next season.
The team faced new challenges this year, with similarly skilled opponents including St. John Bosco High School, but they overcame these challenges by working with the coaching staff at rigorous practices, according to Caleb Price '19.
"
"The boys, now excited for their season, realize, 'If I did this as a freshman, I'd be loving this. We're trying to get guys to come out younger.""
— Coach Glenn Irvine
With the intense schedule in mind, the team set goals for their season.
"The goal is to keep the team healthy and win nationals," CCHS student and varsity rugby athlete Jake Mitten '19 said.
The team, dominated by seniors, possesses a positive outlook on its season.
"Last season we had a bunch of new players, a lot coming from the football team," CCHS student and varsity rugby athlete Brendan Davey '19 said, "but this season we progressed as a team and played really well together."
The team's season, boasting many victories, displayed the squad's ability to work well together. They hope to improve and elevate their play, which they already see happening through hard work beyond scheduled practice times, Mr. Irvine said.
However, the coaches, a staff of men from around the globe, regret the lack of time they have had with the team.
"It is unfortunate we can only use seniors for one season," Mr. Irvine said. "The boys, now excited for their season, realize, 'If I did this as a freshman, I'd be loving this.' We're trying to get guys to come out younger."
"The coaches have a lot of experience, almost 200 years combined, and we are trying to get that experience to the boys, help them be good rugby players, good students, and good citizens," Mr. Irvine said. "That's what we want, them to be a well-rounded student when they graduate."