Inline hockey hustle
CCHS inline hockey team needs new players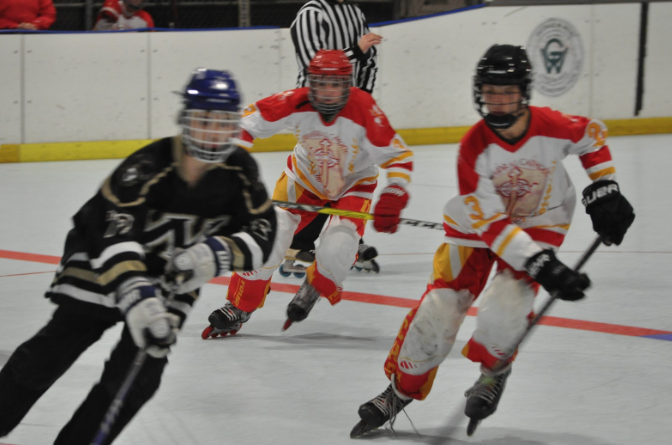 The sound of rollerblades skating across a smooth, hardwood floor echoes off the walls of the roller rink. Shouts and commands ring from one end of the rink to the other end of the rink. The puck sweeps across the floor and into the goal, and a cheer rises from the bleachers.
This scene is all too familiar for the members of the Cathedral Catholic High School inline hockey team.
Finishing as a CIF runner-up twice the last four years, the CCHS inline hockey team commands attention. But the team does not always garner the credit it deserves, to the point where many of the team's current players, including Gunnar Michelson '19, were unaware that it existed before they joined.
"I didn't even know we had an inline hockey team," Michelson said. "One of the boys who was on the team came up to me and asked if I would be interested in playing for the school, and I said, 'Yes.' "
According to Topend Sports, inline hockey, also called roller hockey, is a variant of hockey played on a hard, smooth rink on roller blades. The sport is similar to ice hockey in the sense that the main objective of the game is to shoot the hockey puck, a small disk made of either plastic or rubber, into the opposing team's goal.
The setup of the game, however, is different. For example, roller hockey consists of four field players and one goalie, while ice hockey involves five field players and one goalie.
Many people are not aware that roller hockey even exists, being familiar only with ice hockey, which is played on an ice rink and on ice skates. Ice hockey is typically more recognized due to the fact the National Hockey League (NHL) is only an ice hockey league. Roller hockey is usually only played in warmer areas, such as San Diego, where ice rinks are nearly non-existent.
Michelson, a hockey player with more than 10 years of experience, participated in both ice hockey and roller hockey. A member of the CCHS inline hockey team since his freshman year, Michelson has witnessed the team's success throughout his high school years.
"My freshman and sophomore years, we placed second in the CIF finals," Michelson said. "Last year, we placed eighth after a tough game against the best team in the league, but this year we haven't done as well as we would have liked."
Ben Rodenbeck '20, a member of the CCHS roller hockey team, played roller hockey before he enrolled at CCHS.
"I've been playing hockey since fourth grade, and it's been a really big part of my life," Rodenbeck said.
Rodenbeck, unlike many roller hockey players, competed in middle school.
"In middle school, it was the same as high school," Rodenbeck said, "not a lot of people knew about the team."
According to Rodenbeck and Michelson, the inline hockey team is virtually unknown at CCHS because of its small size. In the 2017-2018 school year, the team consisted of only eight players.
A common misconception about inline hockey is the sport's perceived level of aggression, which causes hesitation among students to participate in it, Rodenbeck said.
"You aren't going to get body checked in roller hockey," Rodenbeck said. "There are rules protecting you against that."
Both Rodenbeck and Michelson acknowledged that while it is possible to be injured in roller hockey, injury is much less likely to happen compared to ice hockey.
But the decreasing size of the team is cause for concern among CCHS  players, who feel the future of the sport is uncertain due to its lack of representation.
"We've lost a lot of guys who were seniors, and we've definitely felt the consequences," Michelson said. "But, I know there's a lot of underclassmen who have played and would love playing for the school."
In addition, the team recently underwent a change in leadership, with the hiring of new head coach Mr. Jon Parker.
Mr. Parker played ice hockey at the professional level in the United States and Canada. During his time playing professionally, Mr. Parker played in the NHL for the New York Buffalo Sabres and the Los Angeles Kings.
In Canada, where ice hockey is the national sport, Mr. Parker played in Vancouver, Prince Albert, and Toronto.
However, Mr. Parker still remembers his roots playing hockey as a child in San Diego.
"Growing up in San Diego, hockey was really special to me because it's a sport not a lot of people play, especially here," Mr. Parker said. "I played my whole life, and when I was 19, I started playing on the professional level."
Now, Mr. Parker enjoys coaching the CCHS roller hockey team.
"Coaching hockey to high schoolers is obviously very different from playing, especially at a professional level," Mr. Parker said. "But getting to see how a lot of these kids who both have never played hockey before, or have grown up playing the sport, dive into it and love the sport is amazing."
Rodenbeck, Michelson, and Mr. Parker recommend playing inline hockey to incoming freshmen and other underclassmen.
"It's a really great sport that's a lot of fun," Mr. Parker said. "You get really close to your teammates and you get a lot of exercise done. I don't think there's any sport like hockey."
About the Contributor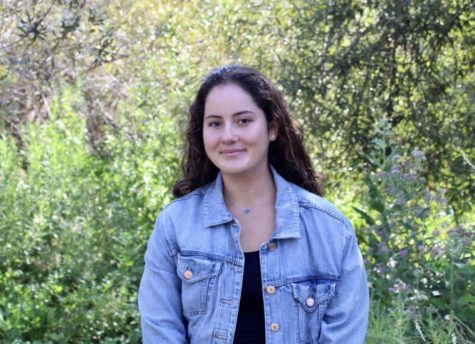 Daniela Gil, Social Media Editor
As the Social Media Editor for El Cid this year, I aspire to use my position to help the newspaper reach more students than ever. While writing for the...