Crushing Carlsbad
The Cathedral Catholic High School varsity football team shut out Carlsbad High School 35-0 in its first California Interscholastic Federation game of the 2018-19 season last Friday night at Manchester Stadium.
"We went into the game knowing it was going to be easy," cornerback Dee'shon Swafford '21 said. "But we didn't let that affect us. We tried not to get too cocky so it wouldn't affect our performance."
The Dons, ranked 2nd in San Diego according to the KUSI Prep Pigskin Report, jumped out to a quick lead of 14-0 with two touchdowns by running back Shawn Poma '19.
"After Poma's first touchdown, we knew at that point we were going to win," strong safety Matt Surprenant '19 said. "When Poma runs the ball, it gives confidence not only to the offense, but the defense as well."
With 10 minutes to spare in the second quarter, quarterback Caleb Price '19 rushed for a 41-yard touchdown, giving the Dons a 21-0 lead at halftime.
"At halftime the vibe among the team was really positive," CCHS offensive lineman Caden Sears '19 said. "But everyone knew the game was not over, and we needed to focus on finishing Carlsbad's season with the CIF loss we suffered against them last season still in mind."
The Dons offensive line paved the way with 12 first downs, 246 rushing yards, and the Dons going 3/3 on 4th down conversions.
"A pivotal point during the game was when we ran up the middle and Josh Lewis '19 dove to block the safety, which freed up Poma to score a long touchdown run," Sears said. "That play really set the tone for the game."
The Dons delivered the final dagger with Poma's 38 yard rushing touchdown, his third of the night, finalizing the ending score of 35-0.
In addition to the game, students nominated wide receiver Zion Sorani '19 and Poma to join the podium for the 2018 Silver Pigskin Player of the Year.
The Dons will next advance to the CIF Open Division championship game at Southwestern College next week. CCHS will take on number one ranked in San Diego Torrey Pines High School.
"Next week we play our toughest rivals," defensive end Jake Mitten '19 said. "Our TPHS game will probably be a hard one, but hopefully with all the players we have now, we can win."
About the Contributor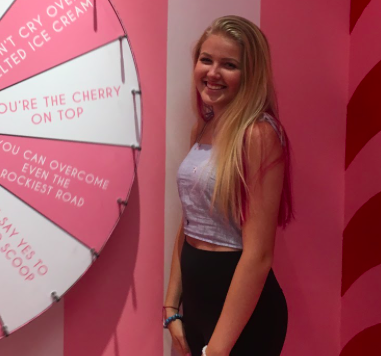 Katie Dittamore, Assistant Entertainment Editor
As as sophomore at Cathedral Catholic High School and this year's Assistant Entertainment Editor for El Cid, I look forward to what this school year...