Serving support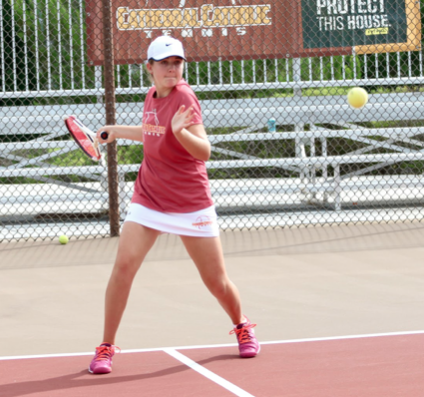 For Cathedral Catholic High School varsity tennis team captain Kate Harrington '19, playing tennis and leading other people ranks as the most important aspects of her life.
"My goal was to be the best player I could be in order to support my team and not let them down," Harrington said. "I'm happy I am able to be a co-captain to help lead our team."
Despite playing varsity tennis since freshman year, Harrington does not brag or boast about her accomplishments, but rather she takes the opportunity to help her fellow teammates improve on and off the court, making her a team and crowd favorite.
Teammates and coaches admire the amazing attitude Harrington displays when interacting with fellow Dons. Like her other teammates, Harrington makes sure to stick with her team and lead them to victories.
"Kate has been extremely supportive and inclusive toward everyone on the team – even the new members," CCHS senior and varsity tennis team member Sydney Northbrook '19 said. "She has always been aware of the opinions of others and has made sure to be a great listener and to be able to help everyone in any situation they might be in."
However, Harrington does not spend all of her time on the court. She would never let herself fall behind in her academics and makes sure to never prioritize either athletics or academics over the other.
"While it can be overwhelming at times to manage both my schoolwork and tennis, for me it is all about managing my time wisely," Harrington said. "If that means going into the library at lunch to work on homework so that I have less to do after tennis, then that is what I do."
For Harrington, playing tennis turns dreams into realities. Last year, she led her team to victory at the CIF Division I Championship. Unfortunately, many players who competed for the Dons last year have since graduated.
Nonetheless, Harrington has not lost hope.
"This year half of the team is new," Harrington said. "Along with the other captains and our coach, I am focusing on rebuilding a strong and united team."
Despite working alongside her coach and other captains to provide an encouraging and helpful environment, her teammates are not the only ones who appreciate her attitude and leadership abilities.
"Kate puts other people before herself and she makes that obvious in her actions on the court," varsity tennis team head coach April Bisharat said. "She does whatever we need her to do to support her teammates, and she always does her best."
About the Writer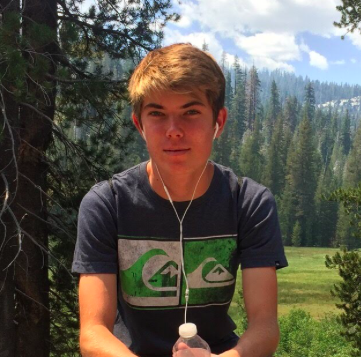 Matthew Rowland, Assistant Features Editor
As a junior at Cathedral Catholic High School, I will work as the Assistant Features Editor for El Cid. I chose to write for the newspaper to expand my...