Win one for Santon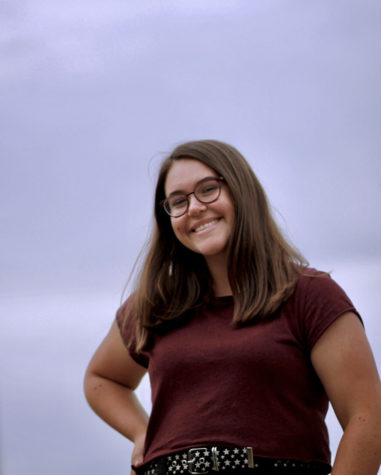 More stories from Angelina Hicks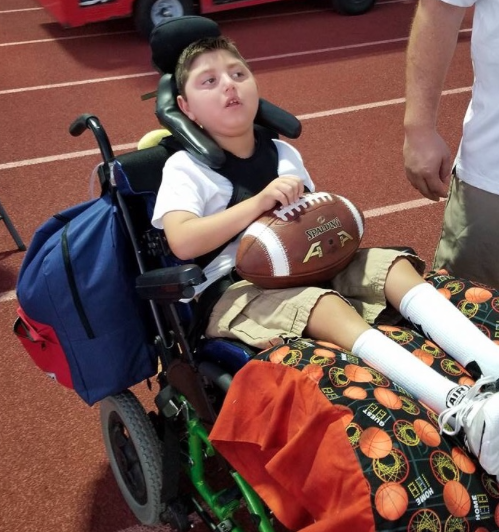 In an effort to impact lives beyond the gridiron, Cathedral Catholic High School varsity football Head Coach Sean Doyle and his program recently adopted Michael Santon, a terminally-ill Dons football fan, as an honorary team member in order to brighten the youth's life and to impress upon his players the extent of how fortunate they are to compete under Friday night lights.
"This is a lifetime thing for our team," Doyle said. "It is not for a week, a season or even a school year. Michael is part of the Dons football family and the larger Cathedral Catholic community for as long as God blesses him with us."
Santon's journey to becoming a Don is one of inspiration and empowerment.
Before Santon's birth on May 6, 2012, tests showing poor blood and oxygen circulation, a cystic lesion in the cranial fossa, and an underdeveloped cerebellum resulted in his diagnosis of congenital cytomegalovirus. His mother, infected with CMV after coming into contact with saliva during her work as a dental assistant, passed it on to Santon before his birth.
"I was 32 weeks along in the pregnancy before we knew something was wrong," Mrs. Courtney Santon said. "The doctor told us our son was either not going to make it or be severely retarded. This news was devastating. We researched and researched to figure out what could have caused this. Once we had our answer, we did everything we could to make sure he had to appropriate care in place.
"We had to plan our son's funeral before he was even born."
CMV, an unpredictable illness, affects 60-90 percent of adults, most of whom suffer from little to no symptoms. However, in rare cases like Santon's, CMV can be passed on to a child before birth. The results manifests in extreme symptoms, including seizures, premature birth, mental disability, enlarged and poorly functioning organs, and many more life-changing impairments, according to the Centers for Disease Control and Prevention.
Most fetuses infected with CMV do not live past birth. In Santon's case, the doctors induced labor four weeks prematurely in an attempt to save his life.
Miraculously, Santon survived.
Consequently, Santon spent six weeks in University Hospitals Rainbow Babies & Children's NICU, where doctors told Santon's family he would need extensive specialized care for the rest of his life. He was sent home in June, 2012.
"I haven't been able to go back to work since he has been born since he needs around the clock care," Mrs. Santon said. "Other than that, we believe he has actually made our lives better. He has shown us what is really important in life and to not take things for granted."
The past five years, Santon has fought many health issues on his own.

Until now.

In August, the CCHS varsity football team paired with the Friends of Jaclyn Foundation to adopt Santon as a part of the Dons family.
FOJ Executive Director Erin Perkins expressed the organization's mission, stating how it improves the quality of life for children battling pediatric cancers and other life-threatening illnesses by pairing an afflicted child with a sports team, club, or community group.
"The team provides the child with a unique support system and a welcome distraction from 'the beast,' " Ms. Perkins said.
Through being paired with a sports team, ill children gain a community from which to seek hope and support between the stress of hospital visits and medication.

"Like with Michael, the team will give their adoptee a lifetime of love, support, and friendship by inviting him to practices, team events, and games," said Alicia Provenzano, who serves Adoption Support and Outreach Coordinator of FOJ. "This gives the child hope and support during their journey.
"It also gives them the opportunity to have endless love and just be a kid."

Santon attended his first CCHS football game Sept. 1, where he participated in the coin toss.
"The first game we attended was amazing," Mrs. Santon said. "Everyone from the team, to the parents and coaches made us feel so welcomed. The entire coaching staff was welcoming and interactive.
"There wasn't a person in attendance who didn't go out of their way to make us feel like part of the Dons family."
On the day of his Dons adoption, Santon arrived at CCHS about 30 minutes before the game, to meet the coaches, staff, and players. Five minutes prior to kickoff, the referees called for the captains of each team. This is when Santon, along with a few other players, participated in the coin toss, creating a powerful image that inspired those people in attendance.
"It's very touching getting to meet [Michael]," Brycen Newman '18, a member of the football team and cancer survivor, said. "As an individual all you can do is have your heart go out to him and support him as much as possible."
According to Mrs. Santon, Santon interacted with the team in a way she had never seen him communicate before that moment.
"When [the boys] approach Michael, it is like his body wakes up," Mrs. Santon said. "He listens contently when they talk to him and responds with moving his arm to try and reach them."
After the game, Santon, along with his family, stayed for dinner, which was way past Santon's usual bedtime. Although on medication that makes him sleepy at night time, Santon fought to stay awake, which is something he had never done before while on the medication, Mrs. Santon said.
"During the dinner, as each player walked through the door and came to him, his eyes would open and he moved his hand," Mrs. Santon said. "When they came out to practice before the game, they came up behind all of us and surrounded him chanting his name. I thought for sure it was going to put him into a seizure from over stimulation, but it didn't.
"Instead, he just looked up and smiled."
Coach Doyle shed light on Santon's attendance to the game.
"It was an inspiring and gut-wrenching day," Coach Doyle said. "Afterward, Michael's mom said he has never been happier."
Although a small act, Santon's adoption will create lasting effects in his life.
"Being adopted has made an impact on his development," Mrs. Santon said. "The way his face lights up and how vocal he becomes when I read him every message that is sent [is incredible]. How happy he is when we talk about the team and how we tell him we are going to the game to see them [is also incredible].
"When he is shown videos or clips, he listens and watches. All things he wouldn't do prior [to the adoption]."
FOJ, along with Santon and his family, are appreciative for CCHS's efforts.
"We are very thankful to CCHS and the varsity football team for opening their hearts to Michael and FOJ," Ms. Provenzano said.
Mrs. Santon feels that CCHS provides an amazing sense of community and hope to Santon.
"The team, from the students and athletes, all the way through to the school administration, continually provide love, support and blessings onto Michael daily, making him feel a part of something outside of his normal routine," she said.
About the Contributor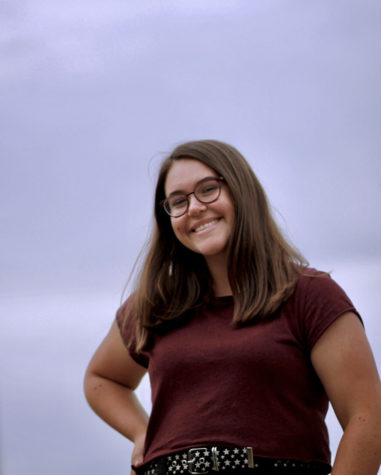 Angelina Hicks, Managing Editor
During my third school year on the El Cid staff, this time honored with the title of Managing Editor, I plan to spend every moment not only striving to...