Resolute Ross leads young guns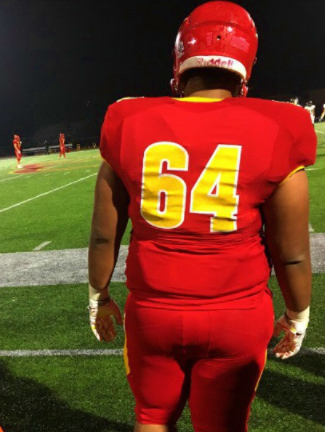 When Cathedral Catholic High School Defensive Coordinator John Montali first cast eyes on Ross Maseuli, he feared for the health of other San Diego County freshman.
And for good reason.
"We try to avoid bringing freshmen up to varsity because we don't want to endanger them to injury," CCHS Defensive Coordinator John Montali said. "With Ross though, the conversation changed. By keeping Ross on the freshman team, we were endangering all the freshmen to injury."
At 6'3" and 320 pounds, Maseuli is as intimidating as any football player to wear the red and gold. In fact, when the season kicked off two weeks ago, Maseuli became the youngest player ever to make a CCHS varsity football team. His combination of size, quickness, and work-ethic convinced coaches to utilize his abilities immediately.
The decision to bring up Maseuli came soon after the team was equipped with pads and contact became the theme. He established his name quickly and powerfully. After making the transition to varsity, no sign of slowing down appeared.
If anything, he elevated his game to a whole new level.
"The first play I saw him, he was pulling on a 28 boot, and I was blocking in front of him until the play ended," varsity tight end Jake Mitten '19. "I turned around to see him on top of [the defensive end]…he ate the kid.
"He was a bit intimidating, but he wasn't intimidated of us."
The intimidation factor spread throughout the team. However, Maseuli's fearlessness shocked the older varsity players. Not phased by his age difference, Maseuli let his dominative play do the talking.
After some early season struggles, Maseuli and his teammates' hard work and effort finally earned a 48-6 victory against Westview High School.
When asked about his expectations of this season, Maseuli said, "This season we're going to be great, and as the season progresses, and we grow, we are going to be nasty and dangerous to play."
As reflected in Maseuli's comments, the CCHS coaches and players exhibit no lack of confidence in their abilities to perform at a high level. The team demonstrates the mentality of winners, which stems from the past year's state championship victory. This year's team expects to duplicate last year team's accomplishments.
"The expectations are the same as last year and the year before, an Open Division Championship," Coach Montali said. "It might take a little longer to get there because of the schedule, and we are really young."
The age and experience of the team currently stands as one of the coaching staff's most pressing concerns, which trial and error will address as the season progresses. Little experience may be seen as a negative today, but soon the youth will develop into a championship-caliber squad, Coach Montali said.
Not shy to identify the early season adversity, Mitten saw the culprit as the team's youth.
"I think the struggles early were due to the lack of varsity experience," Mitten said. "There's a ton of room for improvement because of the youth and raw talent this group has." 
To think of Maseuli as having any untouched talent is unbelievable, but at 14 years young his techniques and skills still have time to develop.
This team features an extremely young offensive line, which holds an average age of 15-years-old. 
"At this point, our youth should not be a defining factor of our offensive line," said Chase Lindgred '20, who is the starting left guard for the unit. "We have been through a few varsity football games, giving us plenty of experience. We know that if we play smart and as a team, we can compete at the highest level and be successful."
The popular slogan "championship or bust" seems to embody the determined and hard-working team. The self-aware athletes know they have not yet reached the peak of their abilities. While currently exploring their talents, the team stands tall, ready to find the ultimate formula and identity for the squad to start winning.
Through his discipline and hard work on the field and his humbleness and humility off of it, Marseuli acts as a symbol for the team of leaders, athletes, and coaches of what it means to be a Don. He gets these amazing virtues from his parents and his family that has laid a foundation of affection and fidelity in his life.
"He's a very humble kid," Mrs. Faustina Maseuli. "He doesn't even talk about football once he leaves the field. He has a strong bond with all his teammates, and the only bummer for him going up to varsity was how close he had already became with his freshman teammates."
Maseuli and the team of young guns plan to bring home another championship. All the athletes are braced for the long run, and the fans look ready to support them the entire way, Mitten said.
Maseuli loves the CCHS fans, and he cannot wait to play in front of them for years to come.
"Of course, I'm grateful for my teammates and coaches, but the fans are what really drive this school and inspires our play on the field," he said.
About the Writer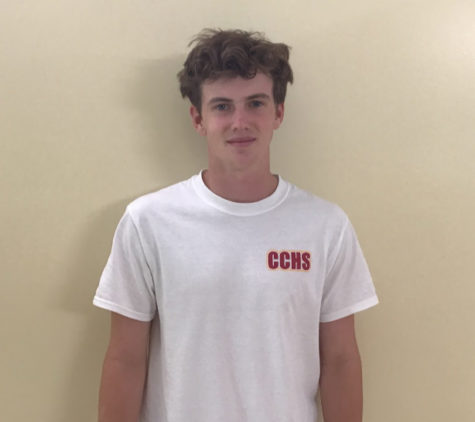 Cole Hume, Editor-in-Chief
Serving as Managing Editor for two years and writing more than 20 El Cid stories prepared me for the critical role of Editor-in-Chief, where I plan to...