Farewell Owen, hello Reid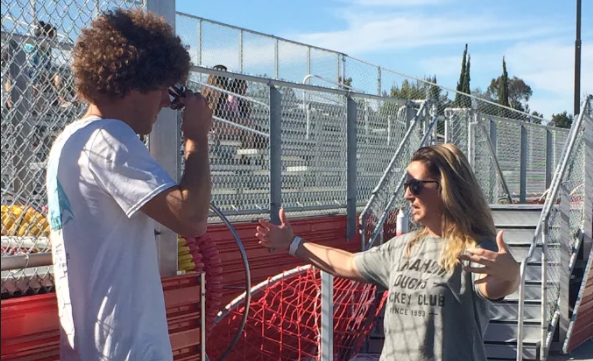 Hang on for a minute...we're trying to find some more stories you might like.
With large shoes to fill, Cathedral Catholic High School counselor Ms. Colette Reid recently stepped into social science teacher Mr. Jeff Owen's former position as the new head coach of the varsity boys and girls swim teams.
"Our new coach is super fired up," Mr. Owen said. "She's young, excited, and really eager to get out there and start working with the team."
With an extensive knowledge of swim and water polo, sports-oriented Ms. Reid plans to implement her high school and college athletic skills into her high school coaching career. After wrapping up her season coaching the varsity girls team at Carlsbad High School, Ms. Reid knew she wanted to get more involved and connect with the students at Cathedral Catholic High School.
"With my future being here at Cathedral, I wanted to get more acclimated to Cathedral life and water polo," Reid said.  "I think doing swim this year will bridge that gap for me."
Along with a new head coach comes an entirely new swim staff.  
Assisting Ms. Reid will be Troy Marcikic, hailing from the Rancho San Diego Swim club. Mr. Marcikic already has a place on the team after supporting many of the swimmers outside of school. Now, he continues coaching in a new position at CCHS.
Already a CCHS pool lifeguard, Jake Hodgens was hired as an official coach for the junior varsity boys team. Mr. Hodgens will attribute his previous experience with the student swimmers to his personal swim career in high school, similar to Ms. Reid.
"By having a new coach, we will be able to pick up some knowledge and tips we might not have been exposed to before," Lafayette College swim commit Tyler Sande '17 said.  "Everyone in swimming has a different background, so there is a lot to learn."

With many individual events and strokes, including freestyle, backstroke, breaststroke, and butterfly, coaching these swimmers can be difficult when keeping them unified and disciplined as one team. The CCHS swim team has roughly 100 swimmers, which speaks volumes on their challenges with team bonding.
"We're reconstructing our practices," Ms. Reid said.  "Some will be in the morning and some will be in the afternoon."
Due to Mr. Marcikic coaching a club team after school, Ms. Reid thought it would be best to arrange practice times. In an effort to benefit the team as a whole, CCHS swimmers are adapting to the new structure.
"The transition to morning practices before school will definitely affect everyone," Sande said. "For the most part, everyone one is a resilient individual who is ready to race and swim fast."
For rising stars Yuma Dugas '20, John He '19, and Tyler Gruwell '18, morning practice will be a new routine that will take an adjustment period. The three boys plan on competing in the coveted spots of the annual Catholic Schools Meet.
The varsity swim team will travel this year to Sacred Heart Preparatory in Palo Alto, California. This meet is one of the biggest of the year along with the awaited event against rival La Jolla High School.  As for the girls, Mount Carmel High School will be a tough competitor for the lady dons, and Del Norte High School will be a difficult match up for the boys team.
However, the teams will compete without Mr. Owen as his fatherly attention is now claimed by his new baby daughter Olivia Owen.
"I think it was time for Mr. Owen to step down in terms of his baby," Reid said. "Family first always."
Although Mr. Owen is overjoyed with a new baby, the challenge of saying goodbye to his beloved swim team has not been easy.
"There was no [good] time to step down," Owen said. "I knew we were having a kid, but there was never a right time. I knew when I decided it was time to go, it'd be really hard."
Mr. Owen tried everything he could to stay with the swim team, including quitting his other jobs.  He attempted to free up as much time as possible, but with his wife working as an emergency room doctor at UCSD Hospital , he knew what he had to do.
"I think parents who play active roles lead to better child development and self confidence," Owen said.
Teaching kids how to do small tasks is not new to Mr. Owen.
His first job was instructing young kids how to swim for the first time, becoming apart of family milestones. Currently, he is tasked with teaching his daughter how to roll from her stomach to her back, which requires a lot of muscle building.
"Mr. Owen is an individual like no other," Sande said. "What he brings to the table both in the water and out of the water is second to none. He never lacked enthusiasm and was always able to rally the team and get us hyped for whatever task may lay ahead of us.
"We will definitely remember everything he has taught us in preparation for this year."