Lady Dons Varsity tennis team kicks off the season with a spirited mindset
Lady Dons Varsity tennis teams A and B kicked off this year's season by attending a team Mass to foster kinship and build on last year's success.
"I always try to remind the team of who they are and what they represent. They are part of the Dons Family and we should represent that every time we take the court," Varsity Coach Ron Marquez said.
With the experience of Varsity A's senior captains, Caroline Horne and Sloane Jacobs, the team intends to bond with the new freshman players in the hope that they will be more than just an athletic team.
"We have a solid group of freshmen, sophomores and juniors," Jacobs said. "I can't wait to see what our talent has in store for us this season. We are going to ball out." The team is loaded with potential and is excited to continue playing this season.
With a different coach than the Varsity A team, Varsity B is also looking stronger than ever this season, placing second at the First Serve Tournament last Saturday. "Coach Joe motivates us and makes us want to play better. Even if we lose, we know he won't be mad because we played our best," junior Ana Aiza said. The team is all about practicing sportsmanship and integrity in their daily routine.
"We expect to play our best and to have a fun season. We hope to bond and get closer with our teammates and have great attitudes throughout the season," Kate Ina said. Win or lose, the girls are putting their best foot forward on the court.
According to Coach Ron, there are a few things to note about the 2015 girl's tennis teams. One of Cathedral Catholic's very own, Sophie Raiszadeh, a player on Varsity A, is a nationally ranked tennis player. According to Coach Ron, Lindsay Lynch is another star athlete on the Varsity A team.
Students are encouraged to follow @ElCidSports on Twitter for updates about the girls and the season.
About the Writer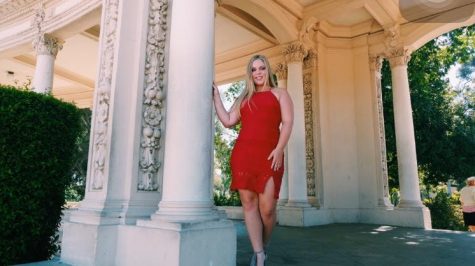 Sydney Calhoun, Managing Editor
As a result of my whimsical spirit, booking flights on American Airlines has become a hobby and picking up the monthly copy of VOGUE is routine. Aside...