Myth: The Catholic Church is Misogynistic
"The Catholic Church is misogynistic." "They think men are superior to women." These are all misconceptions that are universally believed about the Church. But why? Well, people have a tendency to read a passage from the Bible and take it literally. The Bible is a collection of books we base our religion upon, it's not something created to take literally, it's something we interpret and learn from. So, that's why it's imperative to research, identify, and believe in the true meaning of what the Bible is trying to teach us, a concept hard for people to consider. Misogyny is the hatred or prejudice against women. If that's what the Bible, or God, was essentially trying to create in our world, our faith wouldn't be what it truly is. There wouldn't be millions of women role models and followers who have found peace. We live on this earth for our God, not for our own pleasures.
One of the most popular misconceptions about the Church is the reason why women cannot be priests. But what many people do not know is why. No human deserves ordination because priests stand in the person of God, who is a male. Men are priests simply because they are the male figures of God. Women are spiritually equally figures of God. Becoming a priest is not done for one's salvation or as a right, it's given solely for the service of God to the community, it's not necessary for one to go to heaven. It shouldn't be seen as a woman not being allowed to be a priest, you're following a faith based on following God, no man or woman is worthy of fully taking on His role.
There are positions within the church only women can fulfill, one being a nun. A nun is not a "women priest" ; it's an equal position, one that provides charitable service through God. However, many people see nuns as servants of priests. Technically, yes, they are. But not because they are inferior. They serve priests because they are embodiments of Christ. They serve priests for the same reason we, as clergy, serve Christ. We each have a place in the plan of God, not everyone's will look the same, but everyone's is equally important and essential to God. Priests have no authority over you and I, they are simply sharing the word of God as they were called to do. They are not to be seen as someone greater.
Another argument people make regards the 12 apostles. They question why they are only men. Yes, it is true, the 12 apostles are made up of only men, but that does not mean women could not follow and serve Christ. In the Bible, a prime example of his most loyal followers is Mary Magdalene. She was Christ's companion, entrusted with the Good News, and experienced the first encounter of His tomb. Mary was and is known as "the Apostle to the Apostles," a big role in the Bible and leadership of the apostles because Jesus bestowed upon her His Good News. She was sent to spread such News to the apostles, portraying her as the first apostle. Throughout the Bible we see Him act most tenderly and ministered to women, not because He viewed us as weaker than men, but because He saw our value, our worth, something so irreplaceable.
In marriage, two people become one body. Both equal in worth and position. However, people seeking the Bible understand a recurrent misconception on the Church's views concerning the roles of husband and wife. In Ephesians 5:22-24 is it stated, "Wives, be subject to your husbands, as to the Lord. For the husband is the head of the wife as Christ is the head of the church, his body, and is himself its Savior. As the church is subject to Christ, so let wives also be subject in everything to their husbands." It is easy for us to conclude that a husband has control over his wife, that she is owned by her husband, but if we unpack the diction used we can understand that that is not at all what this passage is telling us. A head is dependent on its body just as a body is dependent on its head for fullness. "Head" refers to the fullness of a person, body, and church. In the Bible it does not mean "boss." God doesn't identify himself as our boss, so he could never identify man as a boss to women. "Husbands, love your wives, as Christ loved the church and gave himself up for her," (Ephesians 5:25) proposes that a husband is described as the "head" because he is giving his wife sensitive leadership. Leadership that is produced out of love, not authority. This love is between the spouses, not just the husband. A husband is called to mediate the love of Jesus Christ to his wife and children, he cannot be the head without being committed to the Lord. Because the husband is the head, he provides for and cares for his wife and children, bearing primary overall responsibility for the family. However, that does not mean as a wife you cannot prove care and responsibility. Wives have the same rights in providing money and food for her family, they are the body of marriage, something the head cannot be completed without. This is where people take these verses out of context.
Yes, a wife "subjects" herself to her husband by accepting his role as head, just as a husband "subjects" himself to his wife. That is, she takes responsibility to serve her children. The husband "subjects" himself to his wife by accepting his role to provide for her, not because she cannot do so herself, but because the two compromise and cooperate. So, not one person has greater control or authority over the other. These roles are not subject to just the husband or just the wife. The Bible expresses these roles to exemplify God's want for balance within a marriage. God hopes for partner's needs for love, impart, and commitment, each and every day, "so long as they both shall live." His intentions solely lie in the mutual subjection and fairness between partners in the Sacrament of marriage.
While there are endless arguments to be made about scripture, the most important thing to consider is that we must not take scripture literally, religion is not that easy. We must unpack and understand.
Leave a Comment
About the Contributor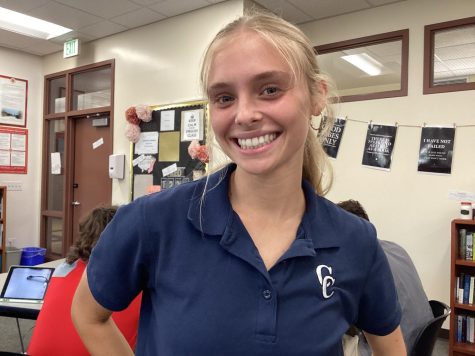 Nicole Moore, Photo Editor & Spiritual Life Editor
Nicole Moore is a first year staffer for El Cid Online. She was inspired by her success in previous English classes to pursue journalism for her senior...