Life Week
Every year CCHS recognizes Life Week through prayer, meditation, and charity. We use this week as a celebration of life's ministry and reflect on our own beliefs, the Catholic Social Teaching: Life and Dignity of the Human Person, honoring community, national, and world needs and indignities. This year Mrs. Lonergan's Campus Ministry 11 class planned and hosted events each day.
Their first event included the Crowning of Mary and decade of the Rosary for life. Crowning symbolizes Mary's significance in the Church. She is the queen of all holiness and is our mother as we are brothers and sisters of Jesus Christ. In times of need it is important for us to pray for her help, guidance, and motherly protection against evil. While this ceremony is typically held in May, we do it during life week as we pray a decade of the rosary for help and safety of the hearts and lives of all people on this Earth. The ceremony starts with hymns leading into a decade where each Hail Mary is dedicated to a different world- wide life defying problems.
On Wednesday, students and staff congregated for a Mass held by Fr. Manny. Dr. Calkins began with a contemplation where he had us close our eyes and imagine ourselves in a situation where our family or friends were experiencing an unplanned pregnancy. He had us reflect on what we would do in that situation. Exercising our brains for complicated opinions and decisions involving the life of a human to prepare our hearts for the celebration of the Eucharist.
Fr. Manny explored biblical ideas of sheeps and goats in his Homily. That we are beautiful sheeps of Christ, not goats. A sheep is gentle, quiet, and innocent. In contrast, a goat is rebellious and likes to browse. Father relates these two animals to our lives, comparing the worldly acts that separate us from being God's Shepherds. A sheep recognizes the voice of his Shepard, just as sheeps if Christ sees him in all that they do. A goat hears his owner's voice, but runs the other way, curious as to what's down that path. When we ignore the presence of God in the things we do, we are tempted to follow sin, discovering new evil. His Homily is a reminder to protect our own lives by incorporating Christ, something that is important to reflect on during life week, because our own lives are scared, we must take care of ourselves mentally and physically. We cannot do that without the help from God.
Dons For Life club held a meeting in Ms. Laporte' room (DeSales 202), where they discussed the highly controversial, yet crucial topic of abortion. As people of every opinion were welcome, the goal of the meeting was to introduce facts about abortion and get people thinking about different perspectives. The meeting started off with the question, "Why is abortion wrong?" This allowed peers to share their ideas and prepare for the possible aspects of abortion that would ge discussed. After sharing, a conversation between a pro-choice and pro-life person was read aloud, proving that when the definition of abortion is explained from either side, the only way to put it is the killing of a life. The process of an abortion was then descriptively shared, connecting it to this weeks theme of the CST: Life and Dignitiy of the Human Person. The next idea regarding rape, explained that even though the Church does not support abortion, that that does not mean we don't support mothers who experienced that. The pro-life movement advocates and support all forms of life, not just the unborn children. Adding in to that complex notion, attendees were asked, "What can we do to help mothers who are facing guilt, trauma, or physical side-effects who had an abortion?" After brainstorming we concluded that as students we can help by not only praying that they may be at peace, but volunteering at facilities and organizations providing therapy and supplies. Actively trying to save and help all forms of life is what the pro-life movement perpetrates everyday.
On Thursday therapy dogs were present at break for students to pet and play with. Dogs have been proven to cause the human brain to produce oxytocin, a hormone that increases feelings of relaxation and empathy, overall reducing stress and anxiety. Taking care of your mental health is one of the most important parts of protecting your life. At lunch, Mrs. Lonergan hosted a meditation in chapel, giving students a break from the stresses of life we feel we cannot escape. In this meditation, students closed their eyes and imagined their favorite place. They imagined what was around them, how it smelled, and how they felt being there, essentially escaping real life and going to their happy place.
On Friday we celebrate families! CCHS hosted a faculty lunch to come together to joyfully acknowledge the importance of children. Faculty and staff invited their children to join them for lunch on campus. Ms. Wells says, "It is a wonderful way to celebrate families and have fun together… There are so many new babies, future Dons, this year it will be super fun to see everyone together!" Friday also concluded the diaper drive which will be donated to new families and those in need. At lunch students also had the opportunity to decorate onesies that will also be donated to organizations who help new moms and babies. An abundance of markers were supplied allowing students to be creative and make these onesies special. Meditation allows the brain to put focus on one thing, eliminating jumbled thoughts that may be overwhelming your mind. Studies have shown that this process allows the brain to function stronger in times of stress. Taking time to meditate, whether it's going to your happy place or praying, is an essential part of taking care of yourself.
Incorporating prayer, reflection, education, and meditation in your weekly lives is how we can help solve and meet global lively needs. Thank you Mrs. Lonergan's Campus Ministry 11 class for bringing awareness of the importance of the life and dignity of every human being in every event!
Leave a Comment
About the Contributor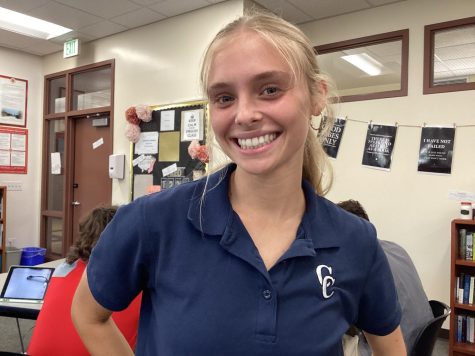 Nicole Moore, Photo Editor & Spiritual Life Editor
Nicole Moore is a first year staffer for El Cid Online. She was inspired by her success in previous English classes to pursue journalism for her senior...