Educate, Advocate, and Evolve at the Jesuit Conference
CCHS hopes to make a comeback after a multitude of our staff and students attended the 2018 Ignatian Solidarity Network (ISN) Jesuit Conference in Washington D.C. ISN hosts this conference with the intentions of evolving the mission and objectives of Catholic Jesuit education. Attendees of this event include Catholic schools, Jesuit colleges, and youth ministries from all over the country, creating a prodigious congregation. Focusing on teaching about social justice through a Catholic Social Teaching foundation, they mobilize over 2,000 members who act upon issues around migration, care for creation, racial justice, and criminal justice. Their vision is "Rooted in the spiritual tradition of St. Ignatius of Loyola and Catholic Social Teaching, we seek change through transformational programs and resources…" (ignitionsolidarity.com), presenting material for educational and research purposes.
Ms. Brittney Cairns, CCHS English, Journalism, and Yearbook teacher, attended this event in 2017. During her experience in the Conference they discussed topics such as "the other," where they taught how to handle not only Catholics, but people of every religion who hold different beliefs or views. Becoming educated on dealing with tough situations is an important step in creating solutions to controversy surrounding injustices. Thus, advising the adults how to be a teacher, what a teacher should do to advocate and further handle such affairs. Of all the important themes discussed, Cairns expresses this "strengthened my faith and reaffirmed my decision to be a Catholic educator." As an English teacher and not a religion teacher, she brings the advice on having difficult conversations as a guide for incorporating faith into the classroom.
As for students, opportunities to fundraise and become the best campus minister possible are presented. Fr. James Martin, guest speaker for ISN, personifies the magnitude of "respect, compassion and sensitivity" in the ways of ministry and day-to-day life. Not only is this conference a chance to further your leadership skills on and off campus, you gain exposure to new surroundings. An essential part of the trip is to explore D.C. seeing the Lincoln Memorial and more.
Having an opportunity to emerge social justice issues, develop ways to address these issues, and create fortuity for young emerging leaders to cogitate on the relationship our faith holds within justice is once in a lifetime. If you are interesting in attending the Ignatian Solidarity Network Conference, fall of 2023, email Ms. Wells or Mission and Ministry for more details!
Leave a Comment
About the Contributor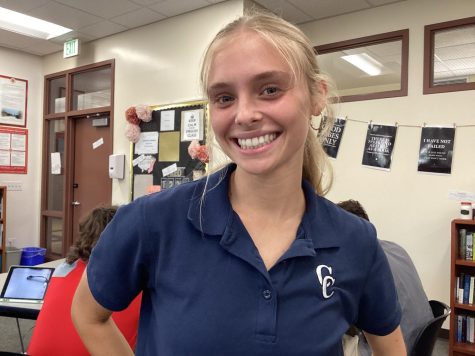 Nicole Moore, Photo Editor & Spiritual Life Editor
Nicole Moore is a first year staffer for El Cid Online. She was inspired by her success in previous English classes to pursue journalism for her senior...