#LongLiveConnor
Alumni Park was covered by a blanket of red on Wednesday afternoon as the Dons came together in unity to offer up a special prayer for our loved one, Connor White.
Although he could not be with us in person, there is no doubt that he was smiling big from up above. 
Red Ribbon Week is not only a time of awareness, but also remembrance of those we have lost.
Connor was and is so loved by the Dons community and we come together for him in prayer and in hope.
Dr. Williams had such a special relationship with Connor as he "was family to me." Not only was he a student of her's "for two years but then I also knew him," as her sister is engaged to Mr. White, "on a personal level." 
She went on to speak about how the service "took my breath away" and how it was demonstrative of the great effect that Connor had on all of our lives. 
"He was just so funny and kind and creative and he was a soft voice in the classroom but I know that he had such an impact on so many students here that really looked up to him."
Connor touched the lives of so many people and the little moments will never be forgotten, but will be cherished. 
Dr. Williams reminisced about the time that they went on a family trip to Zion to visit a ghost town. 
"He was so excited and he was so good with my kids, they really looked up to him and they just had so much fun together."
Mr. White shared that some of his favorite times with Connor were long five mile walks on the beach. 
"The long conversations that we had," he paused, "just talking about everything, you know, that's the kind of memory that sticks out to me."
The football team shared such a meaningful bond with Connor; they continue to carry his jersey with them onto the field. 
Dr. Williams shared, "I was really moved by the thoughtfulness of the football team" and "the fact that they didn't just do it once." 
"I know how important it was to his family to see that."
Mr. White continued, "I'm just honored." 
"It's impossible to express how that makes me feel and how the team has, you know, embraced him."
Dr. William's closed, "he was so sweet and thoughtful I think he would not want anyone to mourn but would want everyone to remember that he's their friend and that he's looking over them."
We will forever remember Connor. 
Photo taken by Stacy Wells of the Prayer Service for Connor White. Students gathered during lunch and were led in prayer by Campus Ministers.
Leave a Comment
About the Contributor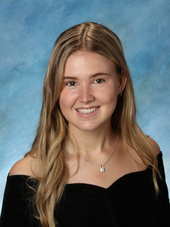 Josie Webster, Copy Editor
Josie Webster is Copy Editor for El Cid Online. This is her first year on staff. She enjoys writing profiles and features about people that she finds interesting...