[Opinion]: Better late than never?
Women's History Month was the month of March and is a month to highlight the accomplishments of women throughout history. So, why did Cathedral Catholic High School only focus on the struggles of women?
When reflecting on our school community throughout Women's History Month, I have to ask myself the question: are women at our school appreciated? Do we do enough to celebrate women and what they did in life or was women's history month simply forgotten? 
I believe that Women's History Month 2023 was, in fact, forgotten. Well, forgotten until the very last week of March when we decided the best, and only, way to celebrate women's history month was during morning announcements. 
Personally, I would say a generous 50% of my peers, including me, listen to the morning announcements. 
What do we decide to feature in the very last week of March during morning announcements? Do we highlight the fantastic women in history who are currently making their mark on the Supreme Court? 
No, we decide to feature the struggles of women around the world. Some highlights from the morning announcements include: "In many cultures girls are seen as less valued than boys." 
While this is a relevant fact, it is a rather depressing fact we are already aware of. Every woman in today's society is well aware that they are valued less than men. 
Instead of focusing on this, let's instead strive to educate our school community on the amazing careers of Ketanji Brown Jackson, the first African American woman nominated to the Supreme Court, or Mackenzie Scott, the ex wife of Amazon's Jeff Bezos who has decided to donate incredible amounts of her money to Habitat for Humanity and numerous other charities. Or, Christine Lagarde, the first woman to head the European National Bank. 
All of these, and more, represent power in the female community. Why not, instead, feature them as examples of achievement as we celebrate women's history month?
In writing this article, I do not mean to point blame at my school. Rather, I only intend to provide my school with a learning opportunity. Next year, let us celebrate Women's History Month by celebrating our amazing female leaders as opposed to the struggles of oppressed women. 
Let us look at the positive contributions of women as we take time to reflect on the incredible women of our CCHS community. Let us rejoice and be reminded that Women's History Month is a time to celebrate and be thankful for positive contributions of women around the world. 
View Comments (1)
About the Contributor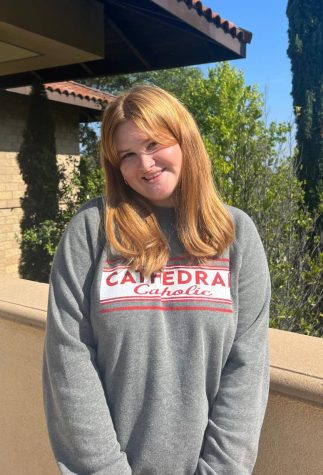 Julianne Cox, Staffer
What makes Julianne Cox unique? Her passion for journalism. This is her second year as a journalist, even though it has been in her DNA her whole life!...