[Opinion] Apple versus Spotify Music
It's always a debate. Apple Music versus Spotify Music. Which one is the best music streaming app? Although the answer isn't clear, several individuals argue which one is the best one, based on the number of songs and podcasts, the quality, the visual appeal, and many more.
To provide background, I started using Spotify dating back to middle school. When beginning to utilize Spotify, I immediately loved the easy access as I could create playlists and download songs for free, which is not how the Apple Music system runs. Creating a profile is enjoyable, because I can not only interact with other Spotify users, but make specific playlists public and gain followers who have similar music tastes. Spotify is also personable as they make playlists based on the music I listen to. 
However, the two major cons are the rigidity of playlist-creating and the constant, obnoxious advertisements while listening. When creating my own playlists, I cannot choose the order of my songs based on the artist, because the song order is shuffled. As for the advertisements, It became annoying as every two to four songs, there would be an ad that would disrupt my music listening experience. 
Based on my growing impatience on the advertisements, buying Spotify Premium, the next level on Spotify, was the best solution to eliminate. I can also choose what songs I want to listen to with an instant tap. Premium enables me to choose whether the song order of my playlists are either by the date I added the song or shuffle them.
Seniors, Natalia Dominguez and Josie Webster, gave me their input on which music-listening platform is better in their perspective.
"I love the extra features, such as Spotify wrapped and the playlists they create for you with suggestions. Spotify is also more visually appealing to me than Apple. "
Dominguez argues that Spotify is the best because she feels that it is easier to manage and loves how personable the platform is by creating playlists based on her music taste. She backs up her argument based on being visually drawn to the music-streaming app over Apple.
"I like Apple Music because I can customize and access my playlists really easily. I also love that they make playlists for me based on what I listen to and they also have live stations which is cool."
As an Apple Music streamer, Webster enjoys the easy customization of her playlists and the accessibility. Besides that, she loves how Apple comes up with playlists specifically for Webster's music taste. Webster likes the fact that there are live stations which makes Apple closely align more to the radio.
Based on Dominguez and Webster's opinions on why they use one platform versus the other, Spotify and Apple are truly both similar in many ways. It is up to the listener on what platform they prefer to utilize to promote their music-listening experience. Spotify is not everybody's cup of tea and Apple may not be as visually appealing, but respecting where people listen to their music is significant. So long as individuals can listen to their music when reading, driving, practicing, working out, studying, and many more. Let the debate continue! 
Leave a Comment
About the Contributor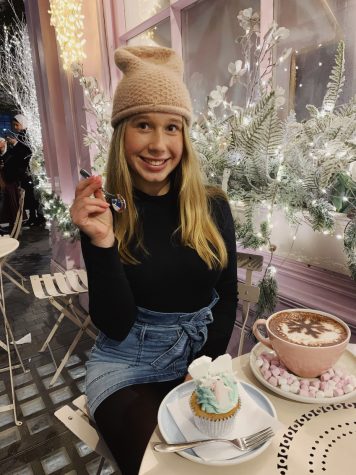 Sahara Kiskis, Features Editor
Entering her Senior year and first year with El Cid Online, Sahara Kiskis is excited to serve as the Features Editor. Sahara is a bubbly, compassionate,...