Dress code CON: Policy is too 'strict'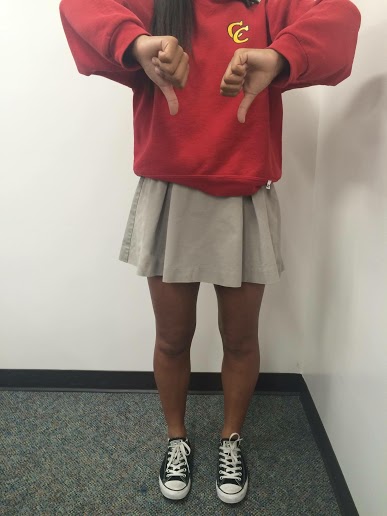 Cathedral Catholic High School students wearing uniforms is not the issue, the issue is the dress code policy.
Reading the nine pages in the handbook dedicated to "Dress and Appearance," one will see that after a student gets three dress code detentions, he or she receives a referral. In this case, the third time is definitely not the charm.
Students signed the handbook, they know the consequences, so why do students continue to break dress code? The answer is simple: the dress code policy is too strict.
How strict, one may ask? Half an inch.
After coming in late to school, a student who wished not to be named, was on her way to class. She was almost out of the attendance office when she was asked to have her skirt measured. She heard, "Let's just measure it for fun," and out came the ruler. Her skirt was three and a half inches above her knee, half an inch out of dress code, which earned her a detention.
A large proportion of the student body receives 45-minute detentions for not meeting dress code requirements, and teachers are starting to hand out the detention slips like candy.
Fortunately, there is an easy compromise that CCHS can reach. If the policies were less demanding, students would stop trying to get around the rule, resulting in fewer issues for administration and students to handle.
Girls' skirts lengths are the main source of dress code detentions on campus. If the rules regarding skirts were taken away, there would be much fewer detentions overall.
The only answer girls receive when being dress coded is to look at the handbook. A portion of female students are confused, and they feel as if they are being targeted. Female students are starting to believe that administration considers them as 'a distraction to the boys.'
"Why is it our responsibility to make sure our skirts are long enough for the boys to stay focused?" Jules Kiss said. "If academics are the main priority at school, why should the length of our skirts matter?"
It is easy to see how some feel education is treated with lesser importance to a male's interrupted focus, which is their own issue and not a concern of the female students.
It is even more confusing when the handbook states, "The Dress Code has been designed so students understand that their manner of dress should be appropriate to the serious nature of academic study…"
A recent student survey conducted by El Cid indicates a different idea.
A poll taken from a total of 100 students, 50 girls and 50 boys, asked if the students had received a dress code detention. Seventy-two percent of the girls received detentions and only thirty-four percent of boys received detentions.
The second question in the poll seeked to determine whether or not boys wore belts everyday, a CCHS dress code requirement. Eighty eight percent admitted they do not. Girls were asked if they had received detentions specifically for skirt length, and out of the seventy two percent of girls who had received dress code detentions, ninety percent of the girls said the detention was issued for skirt length.
The dress code policy is not only too strict, but according to the evidence from the poll and student opinions, it might also be biased.
Several rules listed in the CCHS dress code, beyond skirt lengths and belts, pose questions students struggle to come to terms with. Why must boys wear socks, but girls are not required to? Why must students wear only CCHS approved outerwear in the winter when a simple sweatshirt does not suffice?
The issuing of detentions for dress code related reasons continues to grow. Unless the dress code policy is adjusted to fit more reasonable standards, the students' angst, and inclination to rebel, will not be relieved.
About the Contributor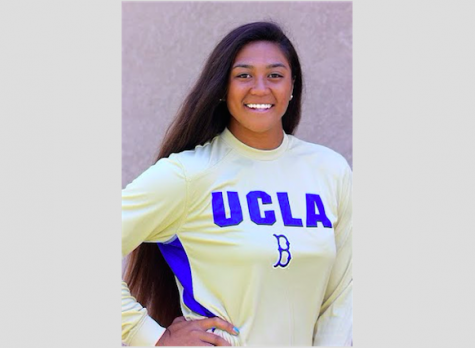 Megan Faraimo, Staff Writer
Hello, Hello, Hello! My name is Megan Faraimo, and I'm a part of the Class of 2018. As a sophomore, this is my first time taking Journalism. It's quickly...