'Wi-Fi shutdown' exposes technological dependency
Micaela Dea, Assistant Editor-in-Chief, Sports Editor
March 16, 2015
The faculty room in the Kolbe Center seemed more noisy and talkative than usual; and in return, there was less Wi-Fi than usual. On Thursday March 5th, our school experienced a disaster like none other. Around 9 a.m. in first period, Cathedral's Wi-Fi became ineffective, and one by one students and teachers alike watched the minuscule, three-layered fan in the top left corner of their iPads disappear. No one was granted Internet via iPad, and it lasted the whole school day.
Cathedral, since our transition into a one-to-one school, has incorporated iPads into daily education. Every year teachers and students learn more about how to use their iPads efficiently and in a more encompassing manner, usually for the better but sometimes for the worse.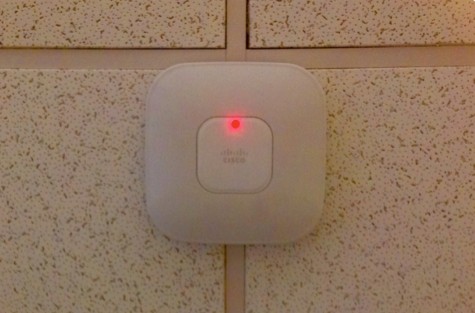 In fact, when our Wi-Fi 'shutdown' last Thursday, most people on campus were at a loss of what to do. Teachers and students improvised as much they could to continue with their routine schedule. Drama teacher Ms. Wilson said, "I'm good at improvisation so I just changed my plans. It was modification; we did something close to what we would have done."
Teachers certainly weren't the only ones that were affected. Students, too, were forced to go about their day in an impromptu way. Senior Natalie Brown said, "I had a collage to present with a song in my religion class, so instead I had to make up one on the spot because I could only play the original song with Wi-Fi."
Drama class students came up with new things to do as well. Senior Jackie Nofal said, "In drama, we played more games, and people were getting up and talking more. It [the Wi-Fi shutdown] allowed you to socialize more." But for many students, socializing wasn't their first option, especially within the first ten to twenty minutes of the shutdown. "I was trying to go on Pinterest, but it wasn't working," said Jackie. "And in study hall, I was forced to do my written homework." Junior John Lawson sympathizes with the lack of social media and said, "I couldn't go on Twitter, which was disappointing."
Still for others, the Wi-Fi shutdown did not seem to bother them. "It didn't hurt me that much. Our [the teachers'] computers are wired so I could do everything I needed to do on my computer," said Statistics and AP Economics teacher, Mr. Tom Rickling. He said that if the teachers needed something on a website, they could get it on their computers and put it on the SmartBoards. Most teachers, however, forgot how to properly use (or did not want to bother with) the "blue cable" in lieu of the lack of Internet.
Overall, Mr. Rickling and other teachers were happy to have the Wi-Fi shutdown. "It was great to have students talking and interacting because they weren't on their iPads," said Mr. Rickling. He continued and said, "We should do a shutdown more often!"
Ms. Wilson highlighted how the crash helped us and said, "We are too dependent on it [the Wi-Fi]. Days like today reveal that we all as teachers need to learn to improvise like what happened when the power went out, what happened when you don't get the Xerox copies you needed that day… you need to go to 'Plan B,' and you know that's a life skill and it's our job to teach you that life skill."
This "Wi-Fi shutdown" has brought to light how technology can act as a cage, closing in our freedom to normally communicate as humans. There is one question: If teachers and students cannot figure out how to survive without the world wide Web, then how will we find success in the real world?
In the end, the Wi-Fi shutdown has taught Cathedral many lessons. Go outside, read a book (the ones with actual leaf pages), socialize, step away from technological advancements, and maybe for once, you can experience what school and life really should be like.
Staff writers Jackie Heitman and Julia Martinez contributed to this article.
About the Writer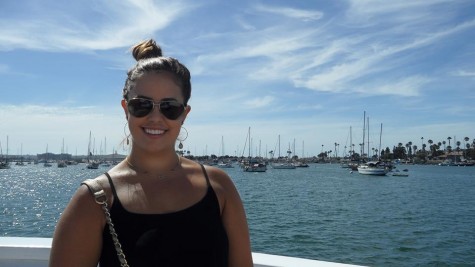 Micaela Dea, Assistant Editor-in-Chief, Sports Editor
Bonjour!! My name is Micaela Dea and I am a senior here at Cathedral. I have been on the El Cid staff for two years now. I enjoy watching sports and going...