One Student's Thoughts on L.I.G.H.T. Groups
I walk into class and Sister Clausen greets me with a friendly hello. I smile and nod at fellow classmates and proceed on to my seat. I sit down, take a deep breath, and smile. I know that this is the one class that I will not be stressed-out in – he one time I can truly reflect on my gifts, my givens, and what God wants me to do with them. There's no grade in this class, no homework, and no tests – just peace.
The "class" to which I am referring is L.I.G.H.T. (which stands for Living In God's House Together) Groups. Students are put in a group of roughly 20 students from your class whose last names are alphabetically related to yours.  You meet once a month in your assigned teacher's room. For some, it's half an hour of no school, for others, it's half an hour of reflection and relaxation.
To be honest, in the beginning, I was a member of the first part of that previous sentence. I saw Light Group Days as a great way to have a shorter schedule and to experience at least one class that didn't require homework or tests. But as the year has gone on, I have grown to really appreciate Light Groups and all it has done for me.
I first met my Light Group at Freshman Orientation. I thought it was a great group of kids, and I clearly remember walking in the classroom, looking at them, and thinking, "Wow, I am going to be able to watch these kids grow up from awkward freshman to mature seniors." Little did I know just how much they would change in even just a year. I have gotten to experience many wonderful things with my Light Group such as Freshman Retreat and St. Vincent De Paul. Both of these things are incredible opportunities, but for me it wasn't so much the events, but the journey along the way.
I can honestly say that I have grown immensely from Light Groups both spiritually and emotionally. The fact that I can come into a classroom and not only feel comfortable talking about myself and my faith, but be able to have people surrounding me who agree with me speaks volumes. I feel confident, each time I enter Sister Clausen's room, that no matter what the circumstance and no matter what else is occurring in my life, I will always feel better when I leave Light Groups. I say this because it's not everyday that you can not only learn something about their faith, but also be able to react to it in an accepting environment.
Now I know not every student feels this way and not every Light Group is like this.  However, I encourage students to take a different perspective on this 30-minute class. See it not as a burden, but a blessing in disguise. Think of it as a way to meditate and reflect on your relationship with God. A minute with God is never a minute wasted, and Light Groups are a perfect example of this.
From learning about the parts of the Mass to reflecting on what Jesus did for humanity when He died for us, Light Groups cover a wide variety of subjects which helps me as a student because I am constantly being given different things to think about.
Granted, there are some things that I don't necessarily agree with when it comes to Light Groups, such as why we only meet once a month or why it's comprised only of people in your grade (My personal preference would be to have a couple students from each grade that way you get to know people better). However, when you stop and consider the idea behind a Light Group and the way it's supposed to make you feel, there really isn't any argument that these little colonies of students unfold to even greater things and become support systems for all members of our community.
So whether you still think Light Groups is a great way to shorten classes, or if you're really going to try and just briefly consider how great those 30 minutes with your Group can be is up to you. But I guarantee if you walk in to that classroom with a different perspective, you will always find something new and appealing to you, and you will always find God beckoning you to come with Him as He leads you on this path of life….
About the Writer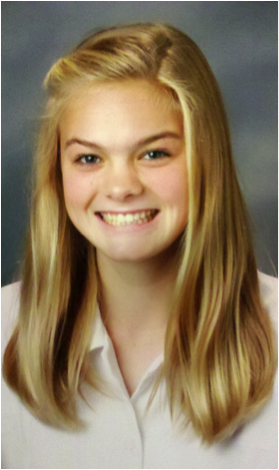 Gabrielle Eyl, Staff Writer
Gabrielle Eyl is a freshman at Cathedral. This is her first year of Journalism and she really enjoys it. In her spare time, Gabrielle plays volleyball...