Mike Patin comments on El Cid's speakers debate (poll)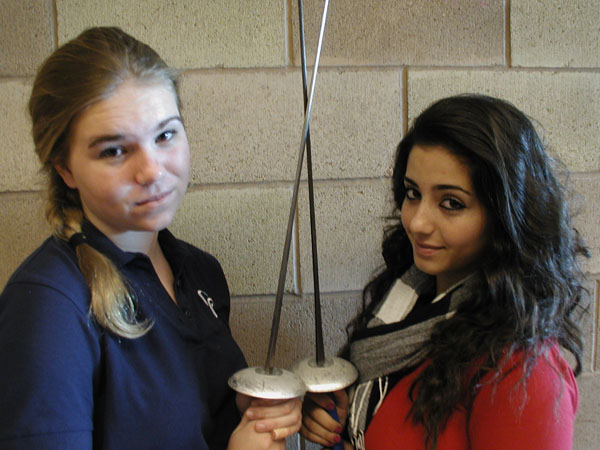 Sarah Miller, Alexis Jammo, Opinions Editor, Staff Writer
December 26, 2010
Sarah Miller's take on Mike Patin (Alexis Jammo's take follows)
Dedicated to raising awareness of teen issues, Cathedral Catholic Cares is a parent organization that works along with the administration to invite guest speakers for annual assemblies. Last year's speakers were Mark Hart and Jason Evert, and this past Monday, former religion teacher and Louisiana resident Mike Patin came to discuss "faith, God and religion."
With his Southern charm and sincerity, I found Mike Patin to be extremely likable, but I am tired of the same old routine. Like both Mark Hart and Jason Evert, Patin took the same roundabout approach to get an all-too-familiar message across. He spent too much time trying to get the audience's attention and not enough time explaining his main point.
Patin began with excessive shouting and a series of exercises; looking around the gymnasium from my seat on the floor, I saw confused and slightly amused expressions. Perhaps it appeared the opening of his presentation did not serve much purpose, but the exercises were helpful in community building. Patin asked the freshman to stand up, and the Class of 2014 received yet another warm welcome. Most of the frosh sat down when he told anyone who thought seniors were cool to remain standing, but I did admire the few lone freshmen who chose to demonstrate their support of the senior class.
Then he moved on to discussing his own lack of spirituality in high school and how he managed to make room for God in his life as he became older. All the while, he emphasized the importance of making room for God in our lives despite our busy schedules and constant pressure to be the perfect family member, friend and student. Here, he made a very salient point –high school students are stressed-out "freaks." Still, at this point, there was not a concrete thesis that related to his discussion of "faith, God, and religion."
Mike Patin concluded his didactic presentation with a cute acronym that is supposed to serve as the grand main point. I enjoyed how he explained each letter of "PLUS" (Pray, Learn, Unite, Serve) and urged the CCHS student body to live out their faith. I finally realized his main point, but by then, it was too late for him to fully explain it. Like speakers of the past, he spent the majority of his presentation making jokes and satirizing teenagers. There was no clear focus in his speech until the very end.
I honestly believe the parents of CC Cares are genuinely interested in the students' spiritual and educational needs outside of the classroom. I applaud their efforts to bring faith-driven motivational speakers who are highly in demand in the Catholic school circuit to our school. Hopefully, upcoming speaker Pam Stenzel will break the pattern of vague presentations in March.
Alexis Jammo's take on Mike Patin
"Mike Patin did not have a specific topic, but I do not think that a lot of kids would have listened to another 'same-old' speech; the message simply just does not stick with you," said senior Katie Snow.
While my friends and I sat in the gym listening to Mike Patin, we were amazed at the talent of the speaker that the Cathedral Cares had hired. We all sat in the same section of the audience, and by the expressions on our faces, we could tell that every singly one of us was having so much fun. Later, when in journalism class, I read Sarah Miller's article criticizing the assembly. I told my friends the gist of her paper, and we decided to put our opinions together and compose an article that expresses a different viewpoint.
There is always a turning point in the assemblies at Cathedral Catholic High School. The speakers start out entertaining students for the first fifteen minutes and then proceed to switch their approach to a more conventional lecture on what we need to do, and what we are currently doing that is considered morally wrong.
Recent speaker Mike Patin, however, managed to maintain entertainment throughout his entire speech. I sat waiting for the conventional switch in Patin's tone, but it never reached that point. His technique kept me intrigued during his entire presentation.
Previously hired speakers have just simply told their stories while trying to relay the same messages that we teens constantly hear. Their point is usually what we already know and have heard hundreds of times from parents, teachers, and sometimes friends; don't drink and drive, don't text and drive, stay faithful to God, and remain abstinent.
Rather than repeating these messages, Mike Patin told Cathedral students that he knows we are either going to break the rules or not, and he could do nothing to change our choices. He did not come across trying to persuade us to make good choices.
School speakers can seem distant and authoritative, but Patin took an approach that appealed and related to students. Most students seemed to enjoy his beginning exercises that involved the whole audience. He relaxed students and changed their preconceived notion that this was going to be just another discourse.
"He really inspired me, which is an experience I have not had during an assembly," said Katie Snow, senior.
Many students agree that Patin was eclectic and entertaining. Instead of telling us that we must change our ways, he explained what is best for us, while still maintaining an unbiased viewpoint and recognizing that we will do things our parents consider inappropriate. His intention was to inspire us, if even in the slightest way; he just wanted to leave an impression.
"I really like how he got everyone involved in his presentation. He kept it really interesting by using visuals and small 'exercises.' My favorite part was when he used the subliminal messages, mainly because I knew the trick, and it was funny to see everyone's reaction," stated senior Victoria Valenti.
By not presenting a lecture, he kept the audiences' attention. As teens, we know that as soon as we feel lectured-by parents, teachers, and other figures of authority, we start to tune it all out. However for most of us, Mikes message made an impact.
"At first, Mike Patin came off as an adult we couldn't really relate to as students. Once he got talking, though, he was engaging and funny and got his points across well. He was a speaker different than any we've had before, so he really made me think about his message," said student Emily Ferrari. She continued, "I loved how he told stories about his daughter and family. It made him much more relatable and like a normal guy, instead of someone just coming to talk to a high school. It seemed like he was really invested and passionate in what he was talking about."
Another key point of Patin's presentation is that we are all "over-stressed freaks." He was not at all putting us down, but rather telling us that we all have things we worry about.
Most high school students feel like they have no one to speak to about certain things because no one is going through the same situations. By taking part in an exercise where students stood up when the statement related to him or her, we all got to look around and physically see all the students who felt the same emotions we did, who were struggling with similar obstacles.
"My favorite part was having the whole student body be so united," said senior Courtney Cape, referring to the exercise in which so many students shared personal details.
Patin certainly achieved his goals in attempting to earn the respect of high school teenagers. He literally held the attention of students for the unabridged seventy-minute assembly, which is a very difficult task to accomplish amongst a group of hungry and anxious adolescents.

Loading ...
XX