Sodexo betters Chartwells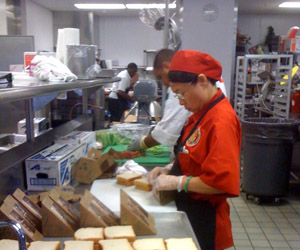 Brianca Onori, News Editor
October 1, 2010
Ranked among One of the World's Most Admired Companies by Fortune Magazine 2010, the new food program at Cathedral Catholic, Sodexo Food Services, provides all students a wide-range of healthy choices for breakfast and lunch during the school year.
Unlike Chartwells, the previous food service at Cathedral, Sodexo's products are fresh and have a twenty-four hour shelf policy (if left over, extra food is donated to Saint Vincent DePaul's charity).
Feedback from Cathedral students on the new food program has been overwhelming; many voiced their different opinions on Sodexo and its positive effects on everyone at CCHS. "I really enjoy the new food they offer," remarked senior Emmett Kearney, "There are many new options to choose from and their display of fruits and granola bars in the front window really adds better advertisement than chips and cookies."
Presentation is key in the food industry and Sodexo's show of a variety of nourishing snacks to students and faculty shows their interest in supplying food beneficial to all.
Head Chef Jonathan, from the island of Hawaii, Yap, explains, "We are now trying to get more choices put on the menu and switch it up every week. Our goal for this school year: continue providing fresh, premium quality food while expanding the options given to students."
Sophomore, Elise Hall said, "My expectations for the new food program at school were definitely surpassed when I saw Sodexo's menu with a wide assortment of snacks and meals on it. I personally love the fruit cup and mini muffins; they serve as healthier alternatives than what was being served at Chartwells last year."
As the 2010-2011 school year beings to progress, remember that we, as Cathedral Catholic students, are "Responsible individuals who develop healthy relationships and promote a healthy lifestyle." While supporting our school food program, Sodexo, we can benefit our bodies nutritiously as well as become more aware of what we take into our diets.