6.5 Magnitude Earthquake Hits Afghanistan and Pakistan
Recently, "the Middle East has suffered from an increase in the number of earthquakes experienced by countries in the region in recent years", Asmaa El Safty wrote.
The increased number of earthquakes is said to be due because this region lies at the juncture of the Eurasian and Indian tectonic plates, according to BBC.
Living in the northern area of these plates can cause frequent earthquakes as the plates continue to shift.
CNN states, "Afghanistan has a long history of earthquakes, many of which happen in the mountainous Hindu Kush region that borders Pakistan". The quake that occured this week was in the area of the same mountain range.
According to Reuters, "The Hindu Kush mountain range was the epicenter of the quake. The range, which is at the junction of the Indian and Eurasian continental plates, is often hit by earthquakes".
Late Tuesday, in Pakistan and Afghanistan, at least thirteen people were killed and more than 90 were injured after a 6.5 magnitude earthquake hit, stated government officials.
"Shaking could be felt across Central and South Asia, including as far away as the Indian capital, New Delhi", according to CNN. The European-Mediterranean Seismological Center stated, "shaking could be felt in an area of 1,000 kilometers by 285 million people across South and Central Asia".
A Pakistani government official stated that at least nine people were killed, and forty-four were injured in northwest Pakistan. The hospitals in northern Khyber Pakhtunkhwa province were in a state of emergency overnight.
The region of which the earthquake occured is prone to violent seismic earthquakes, stated CBS.
In Afghanistan, at least four people were killed and fifty were injured, according to a health ministry official. In both countries, houses and buildings were damaged.
Unfortunately, the death toll from this strong earthquake could rise much higher, stated authorities, due to tremors being felt in several major Pakistani cities.
Many residents had to flee from their homes because of the damaged buildings and triggered landslides. In Afghanistan, at least four people were killed and seventy were injured, according to Sharafat Zaman Amar.
"But the number of fatalities may climb as search and rescue teams reach more affected villages", stated Shafiullah Rahimi, "Some of the districts hit by the quake are extremely remote and don't have cell phone service".
In Pakistan, according to the Provincial Disaster Management Authority, "at least nine people died — including two children — as houses and other buildings collapsed in the Khyber Pakhtunkhwa province".
Spokesperson, Taimoor Khan, for the provincial disaster management authority stated, "at least 19 mudbrick homes collapsed in remote areas. We are still collecting data about the damages".
A Kabul resident stated, "the quake was so strong and terrifying, we thought houses were collapsing on us, people were all shouting and were shocked".
A driver in Khyber Pakhtunkhwa's Lower Dir, Noor Wali, was "eating at a restaurant when the tremors started", states a CNN article. "One wall of the restaurant fell in, we fled to save our lives. People were screaming," he said. "I was close to the mountain, felt like the whole mountain would slide into us, people were calling out for Allah".
Another Pakistan resident was having dinner at a restaurant when he saw the walls begin to sway. He said, "I quickly thought that it was a big one, and we left the resultant and came out", he saw hundreds of people standing out on the streets.
A spokesperson for Pakistan's emergency services, Bilal Faizi, stated, "more than 100 people were brought to hospitals in the Swat valley region. These terrified people collapsed, and some of them collapsed because of the shock of the earthquake", he said.
Faizi and other officials stated, "nine people were killed when roofs collapsed in various parts of northwestern Pakistan. Dozens of others were injured in the quake, which was centered in Afghanistan and also felt in bordering Tajikistan. The earthquake triggered landslides in some of the mountainous areas, disrupting traffic".
Even after the quake, the strong tremors felt across the window caused people to evacuate their homes as trees shook. Some residents said cracks appeared on the walls of their homes.
After this earthquake, many were reminded of the 6.1 magnitude earthquake that hit south-eastern Afghanistan last year. Unfortunately, the death toll from this quake was around 1,150 and many were injured.
Having to experience these massive, damaging quakes create devastating damage for the many families who live there, as well as injuries and loss of life.
Currently, rescue operations are in the works, but authorities say the number of casualties can increase. Hopefully these countries will be able to recover as soon as possible from the damages.
In the meantime, if charities are available, giving donations will be helpful to provide aid for those affected from the earthquake.
Leave a Comment
About the Contributor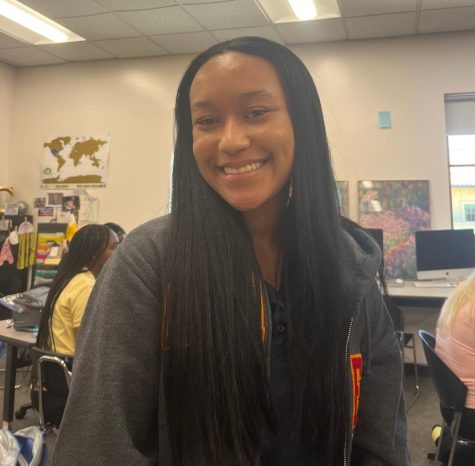 Carissa Vanzant-Thomas, Assistant Marketing Editor
Carissa Vanzant-Thomas, a junior at Cathedral Catholic High School, recently joined the El Cid Online staff. Vanzant-Thomas is eager to start writing for...