Atmospheric River Flooding
News about another atmospheric river system is raising concern because it is predicted to cause flooding and structural damage in California, as well as surrounding states.
A UCLA climate scientist, Daniel Swain, stated "it now appears increasingly likely that a potentially significant and very likely warm atmospheric river event will probably affect some portion of Northern or Central California sometime between about late Thursday and Saturday".
So what are these atmospheric rivers, and what does this mean for us?
Meteorologist Derek Van Dam explained that atmospheric rivers can lead to extreme rain, flooding, and mudslides. He also added that these "rivers in the sky" can transport the equivalent of as much as 25 times the amount of water that flows through the Mississippi River.
"Atmospheric rivers are long, narrow bands of moisture in the atmosphere that carry warm air and water vapor from the tropics", says Aya Elamroussi.
The Weather Prediction Center stated, "an atmospheric river will bring anomalous moisture to California Thursday and Friday. The combination of heavy precipitation and rapid snow melt below 5,000 feet will result in flooding".
California residents are still recovering from the large amounts of snow that trapped mountain communities. News of there being large amounts of rain is not good news for those who live in these communities.
"About 16 million people across central and Northern California, including the San Francisco Bay Area and Sacrament0, were under flood watches early Wednesday ahead of a storm set to drench the region Thursday with dangerous amounts of rain in most of the places that currently have existing layers of heavy snow from previous brutal storms", states Elamroussi.
With the snowmelt and the heavy rain, this may lead to flooding. The Weather Prediction Center said, "creeks and streams in the western foothills of the Sierra Nevada will be most vulnerable to flooding from rain and snowmelt".
It's said that Northern and central California are predicted to receive most of the rain this weekend. They will see moderate to heavy rain, flooding, gusty winds, and heavy snow in high elevations through the weekend, states the National Weather Service.
Meteorologist, David Rowe, stated "it could get really ugly. Probably most of the melt will be in the foothills" (foothills are low hills at the base of a mountain or mountain range).
Thirteen out of California's fifty-eight counties have had emergencies in response to the extreme weather.
The emergency services office in the Big Sur community in Monterey county advised residents and businesses to stock up on essentials that would last them for at least two weeks. They made sandbags available for residents who need them to protect their homes, and other property.
Forecasters are warning that this weather can have major impacts. Kristian Mattarochia stated, "We want everyone to be prepared for conditions we've never experienced before".
So far this year, California has had what forecasters call a "wet winter". This is partly due to climate change. According to Robin Meadows, "atmospheric rivers are becoming more intense with climate change because they're holding more moisture. More intense days are coming, and these storms are just a preview". Our state is likely to experience more intense droughts and floods, and scientists in 2022 warned that climate change has doubled the chances of a disastrous flood happening in the next three years.
Marty Ralph, director of the Center for Western Weather and Water Extremes with the Scripps Institution of Oceanography in San Diego, stated, "this is going to be one of those bigger storms. Pay attention for the possibility of another atmospheric river after this one".
Scientists stated, "as climate change continues, these storms are expected to get worse. As climate change warms the earth's atmosphere, water from oceans, lakes, and streams evaporates. This increased moisture in the air then feeds atmospheric rivers to grow longer, wetter, and more intense in a warming planet".
Tom Corringham, a research economist, stated "whatever we do, we will see an increase in intensity and damage from atmospheric rivers in the future. But if we limit greenhouse gas emissions we should be able to improve future outcomes".
Our country should put more effort into changing how much greenhouse gas we emit into the air. If not, these storms will become much worse and cost our state up to billions of dollars due to flood damage.
For this upcoming atmospheric river, most urban areas can receive up to 1.5 to 3 inches of rainfall, stated the National Weather Service in the San Francisco Bay Area, and higher terrain could eventually receive up to 10 inches.
More than 15 million people across central and Northern California, northern Nevada, and southwestern Idaho are under high wind alerts, says Elamroussi. Wind is predicted to reach up to 55 mph at lower elevations and up to 70 mph across mountains. These strong winds can cause power lines and trees to fall down. In locations that are still recovering from previous storms, they are at risk of having more power outages.
With most of this news being around Northern California and other states, the atmospheric river is predicted to reach Southern California as well. Our conditions won't be as intense as Northern California, but we are going to get a lot of rainfall.
With all of the rainy weather, many Californians have been missing the usual sunny skies, and, unfortunately, it seems that it has only been cold and cloudy for the past month.
Meteorologist, Brian Garcia stated, "it could be weeks, or even a month, before we see a stretch of dry weather in the region", he adds, "the week of the 27th we might have a few sunny days, but in all likelihood, we won't dry out until we get deep into spring and early summer. This a prolonged pattern that we are entrenched in and look to remain so for March and possibly into April".
Hearing news about this big storm is scary to hear and it's sad that the main cause of it all is climate change. This storm can bring heavy rainfall, ferocious winds, and more intense snow, in parts of the Sierra Nevada. These are conditions that many Californians are not used to.
However, there is some good news that comes out of this weather. More than half of the state has become drought-free. The rain and snow across California has been enough to improve long-term drought conditions, wrote the U.S. Drought Monitor.
Since atmospheric rivers are predicted to continue to occur, cities should prepare for when it does happen again. Because climate change will cause these storms to intensify, safety measures should be put in place beforehand to insure people are safe and to help lower the amount of damage in communities.
Leave a Comment
About the Contributor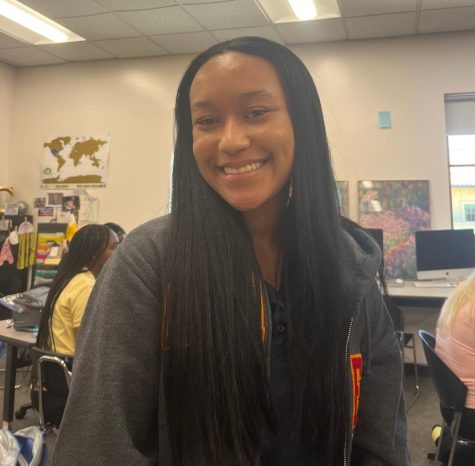 Carissa Vanzant-Thomas, Assistant Marketing Editor
Carissa Vanzant-Thomas, a junior at Cathedral Catholic High School, recently joined the El Cid Online staff. Vanzant-Thomas is eager to start writing for...