School Shootings
Mass Shootings within the First Week of 2023; Listed by Date:
January 1
Columbus, Ohio. One person killed, four injured.
Allentown, Pennsylvania. Four were injured.
Durham, North Carolina. Five were injured
Miami Gardens, Florida. Nine were injured.
Chicago, Illinois. One person killed, three injured.
Ocala, Florida. Two people killed, four injured.
January 2
New Orleans, Louisiana. Five were injured.
January 3
Washington, District of Columbia. One person killed, three injured.
January 4
Dumfries, Virginia. One person killed, four injured.
Baltimore, Maryland. One person killed, four injured.
Cedar City, Utah. Eight people killed
January 5
Miami Gardens, Florida. Ten people were injured.
New Orleans,Louisiana.Two people killed, three injured.
January 6
San Francisco, California. One person killed, three injured.
Dallas, Texas. Three people killed, two injured.
January 7
High point, North Carolina. Five people were killed.
Huntsville, Alabama. Two people killed, nine injured.
Listed above are the mass shootings that have taken place within the dates of Sunday, January 1st through Saturday, January 7th. Within a week, 22 lives were taken as a result of gun violence.The list continues, accompanied by 65 shooting incidents, up to February 21, taking the lives of hundreds of innocent American residents.
Four days.
Four days is the most days that we, as a nation have gone without a mass shooting in 2023. Four days without countless lives lost due to gun violence. Four days of peace. Is that all we are capable of?
The United States of America has the highest occurrence of mass shootings throughout the world. Last year alone, The Gun Violence Archive recorded over 647 mass shootings. More than 44,000 lives were lost.
Mass shootings have become an almost daily occurrence in America. We are no longer shocked when we turn on the TV to see reports of children dropping dead in an elementary school because of a shooting. We have become used to the constant fear lingering over our heads. Fear for our families and fear for our own school community. Fear in the knowledge that it could be our school, our community, our friends.
On February 13, another mass shooting took place in two buildings on the Michigan State University campus.
On Monday night, the university's busy campus was thrown into torment when a gunman opened fire in two buildings, killing three students, severely injuring five, traumatizing all.
The gunman first opened fire in the Berkeley Hall, a little while after 8:30 p.m., where he killed two people. He later moved to the Michigan State student union, where one other was killed. Both buildings were open to the public.
Students were emailed by the university, telling them to shelter and place, that there was an active shooter on campus. The email sent terror into the classrooms. Immediately, the campus's usually busy and noisy streets were vacant, covered in a thick blanket of silence.
The shooter was identified as 43 year old Anthony Dwayne McRae, who was later found off campus around 11:30 p.m. He was found dead, due to a self-inflicted shot to the head. Anthony's father later revealed over a telephone interview that his son had become increasingly angry and violent after the death of his mother but had no known mental health problems and was not receiving any medication.
Attached to the deceased Anthony Dwayne was a note threatening shootings in New Jersey, hundreds of miles away.
The victims were later identified as Arielle Diamond Anderson, Brian Fraser, and Alexandria Verner. They were all under the young age of twenty. The five injured victims remain in critical condition, receiving treatment at Sparrow Hospital.
The campus froze after classes were stopped temporarily and students went home to their families in hopes to recover from the traumatic event.
The school emailed students that classes will resume this week in an attempt to resume daily life on campus but no classes will be held in classrooms where there were deaths or injuries.
In an interview with MSU Interim Provost and Executive Vice President for Academic Affairs, Thomas Jeischko, he stated to students and families that, "We have decided that we will return to campus, both in terms of the classroom setting as well as the regular work, come tomorrow." Nobody expects the campus to return to "normal" anytime soon but Jeitschko announced that, "no one thinks that we're coming back to a normal week, In fact, this semester is not going to be normal."
Schools nationwide are being affected by this traumatizing. Luckily, Cathedral Catholic has gone the extra mile to protect our students and staff. The school has various security measures in place for our safety. Two school security guards were interviewed about their jobs protecting the school and the way that recent school shootings have affected their job and mentality.
"We're at the gate watching everyone who enters the school and their demeanor, how they're acting, if they look stressed out and we take care of it. We make sure everyone looks good and comfortable…Our main goal is just to keep everyone safe," says Steve, one of Cathedrals various security guards.
Steve was interviewed about the stranger on campus protocol and what takes place throughout his shift. "All of our gates are locked at 8:00 a.m. and even if they get in the gate, they have to be checked into the kiosk where they have to give their ID and it will get scanned and checked into our system. If there are no red flags such as previous legal issues or restraining orders, they will be let in."
Carlos, a security guard who has been working with Cathedral for five years, was also interviewed and shared his perspective on what can be done to further protect schools nationwide from threats and mass shootings, "Unfortunately, I don't think that there's anything that's going to be 100 percent that can be done to keep children safe. Unfortunately in the world we live in, there are people who just want to harm other people. So we have to just hope that we don't encounter those people."
Carlos takes into account the way that mental health ties into violence, "I think people just need to deal with anxiety, depression, and hate, in other ways. Try to understand rather than to choose violence. I think that's the problem is people just turn to violence. Until that stops, until we figure out a way to help the people that need help we just have to be ready. I think people just need to care more about other people."
The environment of schools around the United States has taken a 180 with the recent violent attacks. There is only so much that can be done to protect students and staff. We must take into account one's mental health and stability. Make sure to always check in on others, because you never know what they can be going through. Be thankful for every new day of life and do not take advantage of all that others do to keep you safe.
Leave a Comment
About the Contributor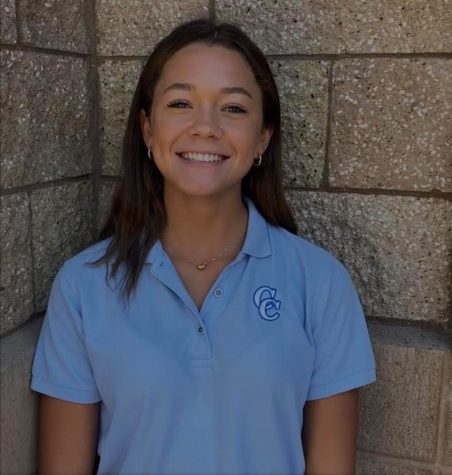 Amanda Miller, Staffer
Amanda Miller is a sophomore at CCHS. She was born in Hollywood, California than later moved to San Diego. She is half Venezuelan and hopes to visit her...