Bomb Cyclone Hits California With a Bang
California has been hit by a devastating bomb cyclone this past two weeks. California is recognized throughout the world for being a beautiful, sunny state. Recently, California has not been living up to its expectations. For the past two weeks, terrible weather has devastated California. For the past four years, California has been in a drought. Now, we are experiencing too much water all at once. It is forecasted to only get worse.
Californians have always seen rain as a blessing from God. California has been facing a drought for as long as many can remember. Yet, now California does not truly see the danger of the storm. Brian Ferguson, deputy director of crisis communication at the California Office of Emergency Services, told Los Angeles Times, "We also haven't had a lot of practice," he added. "We have so much messaging on wildfires and earthquakes … but this is the first time we've had a flood like this in five years, so there is some muscle memory and support for local communities that we need to do to help the public understand what they can do to help keep themselves safe."
What has been hitting California is called a Bomb Cyclone. The San Francisco Chronicle writes, "Bomb cyclones are storms that undergo rapid intensification — often seeing as much as a 24 millibar drop in pressure at their core. Once these systems reach their peak intensity, they quickly ramp up strong winds and intense rain- and snowfall."
These cyclones are bringing up to 70 mph winds in the bay area and up to 45 mph winds in parts of central and southern California. The winds have led to many trees falling. These trees have made many roads impassable. Even more devastating, these falling trees have also claimed lives. Recently, along with heavy winds came downpours. The National Weather Association announces that California has seen a 400% – 600% increase in rain just in the past two weeks. California has seen up to 40 inches of rain in some areas. The rain is leading to major flooding in many parts. The rain has turned roads into rivers, with rushing water taking debris with it. Along with the debris, many lives were lost. Three bodies were recovered in a submerged car. Two lives were also claimed when trees fell on tents. The bodies of two homeless victims were found crushed by the trees. Sadly, one five-year-old boy was swept out of his mother's car in the San Luis Obispo area. He is still missing. Rescue teams put a pin in their search due to the outrageous weather.
So far, 18 lives have been claimed by the Bomb Cyclone. GOV. Gavin Newsom stated in a press conference, "We've had less people die in the last two years in major wildfires in California than have died since New Year's Day related to this weather,"The death toll is quickly rising and is only predicted to rise. Governor Gavin Newsom also said, "Our message to Californians is simple, be hyper-vigilant, there are still several days of severe winter weather ahead and we need all Californians to be alert and heed the advice of emergency officials." It is important that everyone truly prepares for the worst in some parts of California.
The rain and crazy weather has also led to many sinkholes and mudslides. In Santa Barbara, a massive sinkhole was detected. Over twenty homes were evacuated. Due to so much water, the soil can not absorb all of it. That is what leads to the major flash floods and mudslides that have affected much of the state. Rescue and cleanup crews are doing all they can just before they are hit with more tragedy.
In San Diego, we have seen a lot of rain but, luckily, not as bad as other parts of the state. We have seen scattered rain showers for the past weeks. San Diego is forecasted for more rain this coming weekend. Just like other parts of California, San Diego is expected to receive some damage. Due to the soil being so dry, mudslides and flash floods are predicted even after the rainfall. All residents should stay alert.
Along with the rain, California's coast has seen a massive swell. Recently, in San Diego, the waves have reached up to 15 feet in height. In San Francisco, the waves have reached twenty to twenty five feet. Also, there is a warning of high tide and very strong currents. It is very dangerous for any people to be near the ocean at this time. It is recommended to keep a safe distance from the beaches at this time.
Yet, the biggest cause of this whole storm is the rapid change in our climate. California is being hit with storm after storm with no breathing room in-between. The weather is only predicted to become harder to handle due to climate change. Our environment is trying to tell humans something.
In this weather, California residents should stay vigilant. The weather is only expected to get heavier. Everyone should try to stay off the roads as much as possible. It is important everyone stays safe together during this scary and unpredictable time.
View Comments (1)
About the Contributor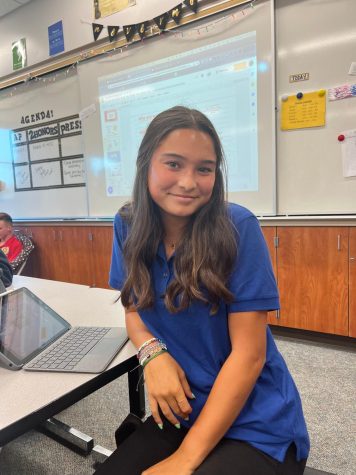 Isabella Durazo, Staffer
Isabella Durazo is a Sophomore at Cathedral Catholic High School and she was born in San Diego. Her hobbies include reading romance books and watching...