BSU for Black History Month
During the height of the Black Lives Matter (BLM) movements in 2020, the desperate push for systematic reform and social emphasis on black pride drove Sydney Jourdain '22 and Bryce Brock '22 to create a safe space for cultural empowerment on campus. Three years later, Noemie Glover '23, Kelli Jackson '23, Nylah King-Boyd '24, Amon Andrews '25, and Ryleigh Patterson '23 continue to work towards racial equality through Cathedral Catholic High School's Black Student Union (BSU).
They hope to continue the mission set out by their predecessors to expand their community and continue outreach programs, especially during Black History Month.
Last February, the BSU hosted weekly meetings for games, discussions, educational slideshows and treats. This year, the festivities hosted by the BSU began at the monthly all school liturgy.
Inspired by the members of the union, Jackson felt compelled to collaborate with Ms. Swift of the music department to "conjoin culture with Mass," asserting that their "number one mission for this Mass was to do music that represented our culture and songs that we actually love and grew up with."
The BSU sang "Take Me to the King" by Tamela Mann and "I Smile" by Kirk Franklin, highlighting the African American roots in Gospel culture.
Jackson reflected on the atmosphere as they sang, "'Take me to the King' was just really powerful …it made a lot of people emotional. I think this was the most reverent I've ever seen people during Mass, because it's not usual that we have the BSU singing with us. Then we did 'I Smile' for the last song and that one's a big gospel song. It was really cool because in our rehearsals we didn't even need the lyrics because it was just songs that we've grown up with."
With the successful Mass completed, Jackson expressed an interest in continuing this tradition, alongside other activities, "We had the mass today, and hopefully we'll do more masses in the future and keep this tradition going— to do the first mass of Black History Month in February. We're also going to have weekly meetings with trivia and we'll do gift card giveaways for whoever wins the trivia."
Along with their scheduled plans, the BSU also began a new segment on their social media page, @cchsdonsbsu on Instagram. Their posts feature "historical figures that aren't usually talked about."
The BSU expressed concern that the majority of students only recognized a certain number of Black historical figures, being Martin Luther King Jr, Malcolm X, and Rosa Parks. They wanted to reach a larger platform of people to introduce them to a new number of Black historical figures that may not be regularly spotlighted.
Their goal for Black History Month is to break the stigma that the BSU is strictly Black membership, and create a community of friendship among all cultures and races in unity. I hope that other people learn more about our community and what we do. The Black Student Union hopes to expand their community and establish themselves as an open place for all to join and learn more about African American culture.
The founders of the BSU, Bryce Brock '22 and Sydney Jourdain '22, believed that "while Cathedral does promote solidarity and community, we thought it would be important for people to have a space to feel safe," as explained by Brock before he passed his legacy to the current leadership team. The 2022-2023 BSU fulfills this mission by promoting an organization open to all races and hosting collection drives "to donate to organizations run by black people or less fortunate communities" Jackson added.
The current leadership of the Black Student Union emphasizes community, both for the African American students of Cathedral, as well as a larger group open to all diverse students. By coordinating service events, they have expanded their reach outside the grounds of CCHS.
Brock described the BSU as "a place where African-American students can have a safe space to talk, hang out, get to know their culture and have those difficult conversations about race. We want to get to the point in Cathedral's history where we don't need a space for minorities because we are all so joined in solidarity together."
When asked what the BSU means to her, Sydney Jourdain '22 says, "having a space where people can learn about African-American culture and spend time with kids that look like me and Bryce all while feeling welcomed and appreciated."
Brock values "balance in knowing how to facilitate relationships with all types of races," which he sees in the promising students of the 2022-2023 BSU.
The work of Sydney Jordain and Bryce Brock has outlived their time at CCHS, and the passion they sparked in their Black Student Union continues to progress.
Their decision to preserve their mission in these students has allowed for the successful growth and development of the Black Student Union. This club has established its deep roots in the Cathedral community, in faith, service, and friendship.
Leave a Comment
About the Contributors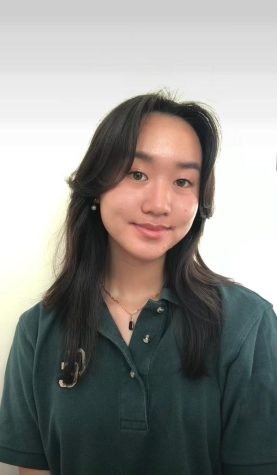 Hong-An Phan, Co-Editor in Chief
Born and raised in San Diego, California, Hong-An Phan is a student journalist for El Cid Online and a junior attending Cathedral Catholic High School....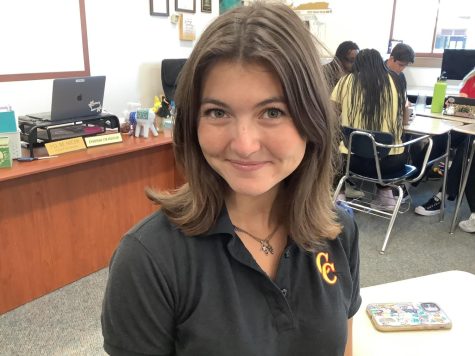 Sarah Brown, Co-Editor in Chief
Sarah Brown. Cheerleader, journalist, and vegan. Sarah has three siblings, all in college and her sister attends Colorado State University. She failed...