Hearts of Cathedral
The "Hearts of Cathedral " club here at Cathedral is a group of students, led by founder, Chiara Bonomi, dedicated to bringing awareness to teenagers dealing with sudden cardiac arrest in San Diego. When joining this club, students can expect to learn about sudden cardiac arrest in teenagers and children alike. Students will also help out in assisting fundraisers, raising money to provide low income schools with AEDs (automated external defibrillator that restarts hearts going through SCA) and volunteer at the heart screening event on December 9 that will provide free heart screenings. This semester, club members will be going through the smart hearts program, teaching club members about Sudden Cardiac arrest, what symptoms of heart abnormalities are, how to screen a heart, and how to perform CPR and use an AED.
What initially inspired Bonomi to create this club was the start of her track and cross country career she started to participate in in middle school, "I had my heart screened to make sure it was safe to continue running. While I was there, the pediatric cardiologist informed me on how important it was for all teenagers (especially athletes) to have their hearts screened. This inspired me to provide this same level of safety to all students at Cathedral so that no one will experience SCA (sudden cardiac arrest) because of an unknown heart condition." Bonomi explains that although she doesn't personally know anyone specific that's had to deal with SCA, she has a friend attending Stanford University as a tennis player who has dealt with an issue just as pressing. Nicole Mossmer found out she had the heart abnormality called Wolff-Parkinson-White syndrome during her freshman year of college, and was forced to take a break from tennis. Mossmer was told that she would need to undergo heart surgery to be able to compete in her sport due to the high risk of cardiac arrest from her condition. Not long after receiving this shocking news, Mossmer underwent surgery to fix her WPW. The next two years of her collegiate career Nicole would spend in and out of the hospital, desperate to find an effective treatment so that she could get back out on the court. During this time, Mossmer founded the Play With Heart Foundation. This foundation is similar to the Hearts of Cathedral Club here at CCHS in that they also raise money for AEDs for low income schools and have the goal of providing free heart screening to teenagers. In the Hearts of Cathedral's recent fundraiser, the HOC team partnered with the Play With Heart foundation and are planning to work with them again in the future.
Hearts of Cathedral is hosting a heart screening event on Campus with the help of the Eric Paredes Foundation on December 9, 2023 from 9:30am-2:30pm. Heart screenings are designed to detect heart abnormalities that can ultimately lead to sudden cardiac arrest. At the event, one can expect to be met with certain cardiologists, nursing students, and around 100 volunteers to help make sure this event takes place. The club has an event goal of screening around 800-1,000 youth from young children to growing teenagers to adults. Anyone from the age of 12-25 can sign up to get their heart screened. Throughout the year, they are also hosting many fundraisers to raise money for AEDs. AED stands for automated external defibrillator and restarts a heart going through sudden cardiac arrest. The use of an AED increases the chance of survival of a person experiencing SCA from 10% to 90%. Last week, the club held and hosted a fundraiser at Panera in which twenty percent of profits went back to the club. Additionally, they are also planning to have a bake sale at the end of this month. In the month of February, ASB is helping them to make Valentine's Day grams for the students at Cathedral to buy and give to their friends!
Students at Cathedral are highly encouraged to help raise awareness about heart abnormalities/sudden cardiac arrest by joining this club and learning about its dangers. Sudden cardiac arrest is the number one killer of student athletes, leading cause of death on school campuses, 1 in every 3 days a high school student dies from sudden cardiac arrest, and 1 in every 300 teenagers have an unknown heart condition. Chiara Bonomi, along with every club member, hopes that by learning all of this information, the Cathedral community will stress the importance to all of their friends and family on the importance of getting their hearts screened. Bonomi exclaims the importance of joining her club, "People should join this club because our purpose is to save lives. Too many teenagers are dying from sudden cardiac arrest. It is very meaningful and rewarding to know that you are changing not just the lives of teenagers who may have died from sudden cardiac arrest, but also those of their friends and family."
Sign up by requesting to join the club on schoology or emailing Chiara Bonomi at [email protected]. The club meets once or twice a month in Ms Groenke's room, DH 210.
Leave a Comment
About the Contributor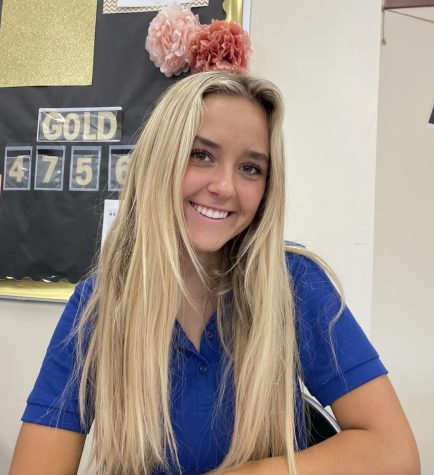 Cassidy Smith, Staffer
Cassidy Smith, first year staffer, cheerleader, and voted "most likely to go Greek," has always. had a passion for writing and is ecstatic to use her...