TED Talk it Out: CCHS Prepares for its First TEDx Community Event
Very few can brave the adventure of sharing their ideas onstage, but the Dons of Cathedral Catholic High School (CCHS) fearlessly took this challenge head-on.
TEDx is a local gathering where live TED talks are performed to a community. On Wednesday, March 29, CCHS will hold a TEDx event on campus to showcase the yearlong work of the CCHS TEDx Lead Organizers: Natalya Fiore, Ryan Smith, and the TED Student Organizing Committee, led by Ellie Carroll '24 and Nylah King-Boyd '24. The team is hopeful of this new opportunity and is excited to recruit and prepare speakers.
Fiore introduced this to campus after positive feedback from a TED assignment she conducted in her English class, "The majority of my students describe it as their favorite part of the year. Getting their talks on a stage has always been the end goal." Many of the organized speakers, 10 of whom are recognized on the Student Committee, were exceptional participants of this project from past years.
Smith's perspective considers the importance of giving students a platform of authority, "I think the students should speak up and the adults should listen. Instead of being taught, TEDx will let the students teach." As an organizer of TEDx at Cardinal Newman High School six years ago, he "had to reflect on what went well and what can be improved" and is prepared to guide the new TEDx program to its fullest potential.
Students at CCHS have knowledge, values, and desires to share with their community peers and finally have an environment where this is possible; however, organizing this opportunity was no easy task.
The team struggled to raise funding for professional videography for the event so that they can publish it on the official TEDx YouTube channel. They eventually succeeded in their perseverant efforts but this was not the only time their determination was tested.
Jessica Swift Lambrou, opening speaker and music contributor, recalls that the negotiation of schedules and the efficiency of their collaboration has been a challenging goal to pursue. This is why the team agrees that prospective speakers must be ambitious and, as Swift advises, "passionate about learning and connecting."
Their recent goal is to advertise and continue navigating new ideas as they come. Carroll is proud to admit they have been "brainstorming on how this whole idea will come to life" in their weekly— sometimes biweekly— meetings since August. So far, they have worked to increase their media presence, through on-campus news sources and activity on their Instagram page, @tedxcathedralcatholichs. They also seek engagement from their new T-shirt designs.
This work aims to spread excitement and engagement within the community as the Dons await the "big day," as Carroll refers to the final TEDx performance.
Smith outlines his expectations for this production, "There will be two sessions separated by an intermission. Each session will have one adult and 6 or 7 student speakers."
The content of each speech is individual to each speaker; ideas range from objective morality to celebrations of natural hair. Carroll admires their freedom to "share a variety of stories from different backgrounds, ages, and experiences."
King-Boyd reflects on her TED talk about black hair representation in the media, "especially [to] black girls at this school, sharing that experience of how my black hair affected my life could help them get through their own struggles."
This year the talks have a central theme; 'in search of truth'. A topic like this starts necessary conversations in the community, and it is so unique that students are given the first voice.
They have limited access to 100 invite-only guests who expressed interest in their work throughout the year. The audience plays an essential role in the event's overall success. The expectation is that viewers will be respectful, supportive, and energetic. The audience and speakers will work in harmony to harvest an environment that builds relationships, proves the potential of public speaking, and sets the expectation for future TEDx performances at CCHS.
If you are interested in speaking at the event, contact Ms. Fiore to begin preparations. Your voice matters and CCHS is ready to listen!
Leave a Comment
About the Contributor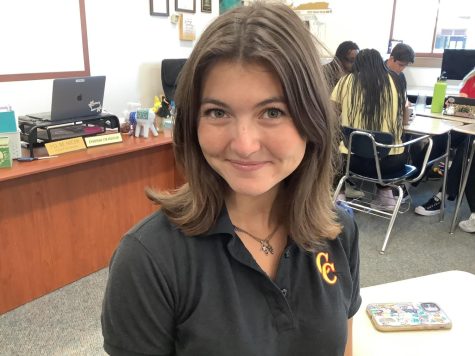 Sarah Brown, Co-Editor in Chief
Sarah Brown. Cheerleader, journalist, and vegan. Sarah has three siblings, all in college and her sister attends Colorado State University. She failed...