Sickness Sweeps Nighthawk Nation, are Other Schools Next?
A surge in flu-like and RSV (Respiratory syncytial virus) cases at Patrick Henry High School didn't come as a surprise to those who laughed and danced at the school's Homecoming a weekend before. But when 1,000 out of the 2,600 students attending the massive school, roughly 40 percent of students, called out sick, administration started to take notice.
Soon after, San Diego County Public Health Services began investigating the outbreak; around 400 of the same flu-like cases were noted at Del Norte High School (DNHS). These cases, that were once viewed as a fluke occurring at one highschool, had now spread and were wreaking havoc on a completely separate campus miles away.
Olivia Piroli '25, a student at Del Norte Highschool, shares that the sudden spread, "was definitely because of Homecoming because everyone was around each other in such a small space." Piroli compares coming back to school the Monday after as walking into a ghost town lacking energy as a result of the absences.
In addition to the emotional impact of missing school, many of those who were absent faced a mountain of makeup work and extracurricular commitments once they returned. Piroli remarks that, "Missing school was actually the worst. I hate missing school. I was out for basically a full week, I feel like I'm so behind it's crazy."
Any student involved in sports or extracurriculars like theater had to play catch-up the second they felt halfway good enough to go to school. Which in some students' minds, hurt even more than the symptoms that caused their absences in the first place.
The ghost town-like quality Pirolli spoke of was present even at DNHS's last home varsity football game the Friday following. Sophie Belovin '25 of DNHS shares that, "there was nobody there. I felt bad because it was senior night" in reference to their low energy student section that night.
The surge of these cases served not only to dampen students spirits after Homecoming, they sucked energy out of the school's last home football game, and put hundreds of students behind academically.
Leave a Comment
About the Contributor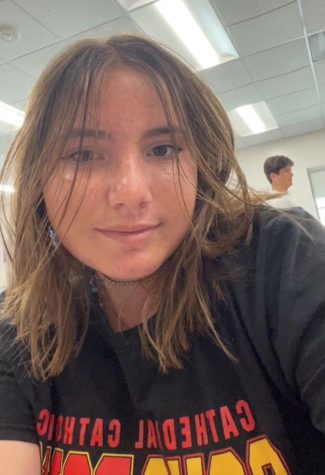 Lucy Miller, Staffer
Lucy Miller is a sophomore attending Cathedral Catholic high school. In her first year working at El Cid Online, she would like to spend time learning...