From Open Mic to Apple Music
Musical talent swarms the campus of Cathedral Catholic highschool. The opportunities for students to develop their passions are endless; one student in particular did not hesitate to pursue these, Cody Duran '24.
Doran recalls an inconsistent early relationship with music, especially when she "took a hiatus" from guitar lessons after 5th grade. With the support of her parents, intertwined with the boredom of the Covid-19 pandemic, she took up her musical endeavors once more, but this time continued to "progress exponentially."
Now, alongside guitar, she writes and sings original music. She found comfort in front of a crowd by consistently performing at local open mics, most notably The Roxy in Encinitas. Within the boundaries of Cathedral's campus, she is involved in singing at mass and the Music Honors Society.
Each "mic-night", mass, and guitar lesson helped her gain the confidence to write, sing, and produce her own album!
Doran elaborates the process of songwriting, "I usually write songs about how I'm feeling in the particular moment, or about struggles." Each song is bound by the intricate foundations of her guitar, but each remains unique in their purpose.
She admits that writing is not a timely task when compared to the other steps of production; "A lot of time and energy goes into producing. Many hours of sitting in front of the computer screen, recording and re-recording."
It truly takes an admirable amount of patience to produce music, "I spend days getting the transitions, bridges, and vocals just right. Recording and editing definitely takes the most time, though."
She describes her album as "A journey of growth in my life, and learning from your own experiences," similar to albums released by her lyrical inspirations, Taylor Swift and Billie Eilish.
However, her car ride- karaoke is far from the songs she writes herself, "Some of my favorite artists are Black Sabbath, Metallica, and Fleetwood Mac."
She hopes to expand her audience beyond open mic-night by releasing her music on Spotify and Apple Music.
View Comments (1)
About the Contributor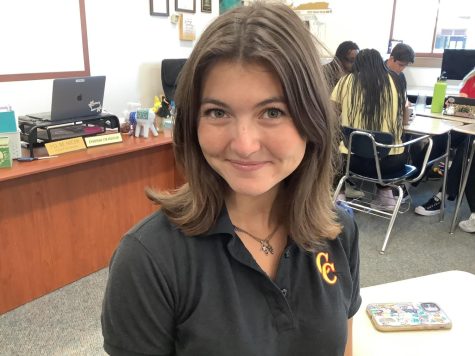 Sarah Brown, Co-Editor in Chief
Sarah Brown. Cheerleader, journalist, and vegan. Sarah has three siblings, all in college and her sister attends Colorado State University. She failed...