Class of 1977 Celebrate Their 45th Class Reunion
Always a Don: 1977 Reunion on Saturday, September 3
Reunions are a way for alumni to reconnect with their graduating class. Visit @cchsalumni or cathdralcatholic.org/alumni for more information (Photo featured in 2021-2022 Alumni Magazine)
Saturday, September 3, University of San Diego's graduating class of 1977 will meet once again at their 45th Reunion Celebration.
Upon check-in, the Dons will receive a name tag alongside their senior photo, so that, as they mingle, they may be greeted by the familiar faces of their teenage years. This provides the safety of familiarity which will cushion the otherwise overwhelming changes to the Cathedral community in the past 60 years, most notably the alterations to the campus.
Many of the Alum will step onto the beautiful campus of CCHS for the very first time since it was built in 2005, 28 years after they received their diploma.
Mrs. Majer recalls, "alumni love seeing our current students getting involved and giving back to the school." This is why the Ambassadors are called upon to set up, check-in, and lead tours upon request.
With the assistance of the Ambassadors for Christ Mercy Corps leadership and the precise planning of our current Deans of Alumni, Sean Doyle '80 and Anne Majer '95, Dons will be met with a DJ, food catered from Kabul West, drinks tended by Mr. Montali, and student-led tours.
Doyle and Majer never fail to remind Cathedral students, in current enrollment or beyond graduation; "Once a Don, Always a Don!"
Leave a Comment
About the Contributor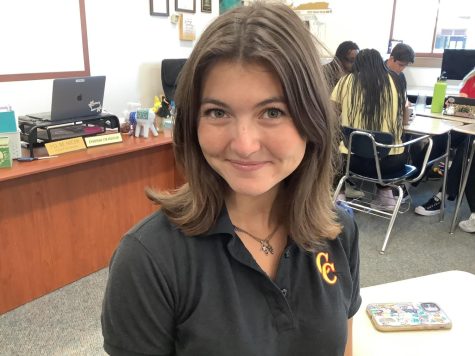 Sarah Brown, Co-Editor in Chief
Sarah Brown. Cheerleader, journalist, and vegan. Sarah has three siblings, all in college and her sister attends Colorado State University. She failed...