Focus Groups at CCHS
Cathedral Catholic strives to assure newcomers of its legitimacy and accurately reflect our spirit long before official enrollment. 
In November, Elizabeth Tysor, Director of Admissions at CCHS, called upon the leaders of the Dons campus to assist her in student focus group testing.
Student focus group testing is broken into four main components, as described by Ms. Tysor; "identifying our target student populations, attracting our target student populations…, how we assess our applicants, and how we keep our current families."
This process is tedious and involves heavy reflection on past admissions techniques to create a map for coming years. 
Additionally, surveys were sent to various groups to assure that all community voices were heard. 
Tysor outlines, "We sent surveys to our current students, sent surveys to our employees, current parents, the alumni, to prospective parents, and to parochial school principals."
These all contribute to the most effective and representative conclusions.
Many results proved to be definitive: "It was a priority across all groups to make sure that we are considering our catholic families and catholic school families to make sure that they are a good part of our community."
Alongside this was the importance of keeping small class sizes and marketing towards seventh grade populations at parochial schools. 
After these results were collected, Tysor found it necessary to collaborate directly with these constituent groups.
This included outreach toward ASB, Ambassadors for Christ, and campus ministers. 
Together, they strive to answer their primary objective, which is best explained by Ms. Tysor, "How can we reach out to them [prospective families] and let them know that Cathedral is an option for these families?… Once they become a Cathedral family what are we doing to make sure that these students are successful."
Through the incorporation of both survey data and face-to-face consultations, Tysor finds herself satisfied and prepared for the admissions process of the 2022-2023 school year.
Leave a Comment
About the Contributor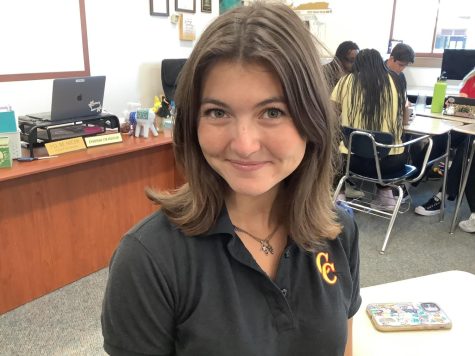 Sarah Brown, Co-Editor in Chief
Sarah Brown. Cheerleader, journalist, and vegan. Sarah has three siblings, all in college and her sister attends Colorado State University. She failed...