Spooky Scary… Christmas Trees?
Spooky season is back in orbit and Cathedral Catholic High School was quick to reintroduce some of the community's favorite pre-COVID festivities!
The school bell chimes and the student leaders of CCHS fled to the junior parking lot to decorate their car's trunk. Honor societies, clubs and sports teams filled their cars with candy and carnival games for the annual Trunk O' Treat on October 28, 2021.
The event was led by the National Honor Society, NHS, members, and planned by NHS officers, like Jasmine Halabo and Evelyn (Evie) Powell, alongside their administer, Mr. Frank Caro. 
NHS worked for countless hours during the weeks leading up to the event. They had the responsibility of ensuring that Cathedral's comeback was bold, organized, and memorable. 
Powell notes how creating connections through communication built a strong foundation for the planning process, "There is a lot of communication. We work with the leadership team and communicate with clubs, faculty and administration…it's a lot of work logistically."
NHS felt a pressure to put on a flawless event. They strived to remind the community that CCHS was back and better than ever. Halabo outlines the broader vision she had for the Trunk O' Treat, "After COVID, this is the first big event that the school and NHS is producing, so we want to be able to get everyone together… so everyone can see each other's faces, talk to people, communicate and be able to have a good time together."
The event grew in success each year leading up to the shutdown. Because this was the first year back, the team did not know what reasonable expectations to set for themselves. Despite this uncertainty, they pulled together an afternoon that left families more than satisfied. Halabo sets the scene; "A lot of excitement, a lot of cool costumes, activities, prizes, like jumbo candy, and people's trunks are very creative." 
As officers, it was Powell and Halabo's duty to ensure that the trunks did not get redundant, in respect to each trunk's individual theme and activity. However, they were surprised to see the creativity from the club leaders. The theme ideas this year were the most unique yet! 
Sports teams especially stood out for their creativity, in both their decoration style and theme ideas. Powell notes that she was most excited to see the CCHS Dons Cheer trunk; "I also love how the clubs connect it back to their organization. The one that stood out to me was the cheer theme: Flower Power. That's also the theme for the cheer team this year." 
Halabo made note of Avery Deguzman and Carissa Zamora's Christmas themed trunk as being her favorite. They incorporated a lollipop tree for the children and extravagant Christmas decorations. It was simple, ironic and fun. It was a theme to remember and a theme that Deguzman described as "the punchline of lots of jokes." Their trunk proved to be a fan favorite and stood out as one of the most unique. 
Zamora, co-leader of the Interact Club, credits the NHS leaders to the successful afternoon, she observes, "I think the planners did a really good job and it's really organized and a lot of people showed up."
The California Scholarship Federation Club, CSF, even created customized supplies using digital resources like Etsy. Meanwhile, many clubs handmade their decorations, like the Key Club's Mario themed trunk. Although not surprising, this showcase of Cathedral's creative student body was truly impressive to the public eye. 
Although it was a CCHS sanctioned and led event, it was far from exclusive. The festivities were open to any community member, and even targeted to neighboring middle and elementary schools. 
Powell mentions how they presented these children an opportunity that made up for the fact that they couldn't hold the event last year, she emphasizes, "It's a great community event not only for the clubs but also the middle schools around us. Last year a lot of kids didn't even experience Halloween, so we want kids to really experience it this year. While it's a Cathedral event it's also for the community outside of Cathedral." 
Because it was open beyond the gates of CCHS, certain precautions needed to be taken to ensure a safe environment. Powell added this to the lengthy to-do list her and her fellow officers needed to get through, she explains, "Jasmine and I have gone through all the activities to make sure they are COVID safe, not only for the Cathedral student but also the other kids invited."
These restrictions also included: mandatory masks for any trunk leader, hand sanitizing stations at each car, prepackaged snacks and regularly cleaned supplies for each activity. Although these tasks may sound nit-picky, they were all in the best interest of our community.
And so, the vision was complete. The children had smiles plastered on their face the entire time, as they shoveled candy into it of course. A community event full of costumes, candy and, well, Christmas trees!
Mr. Caro reflects on the final product, "In terms of little kids coming, I think this was the biggest turnout. Plus we had a lot of trunks so in a lot of ways this was the most successful year."
View Comments (1)
About the Contributor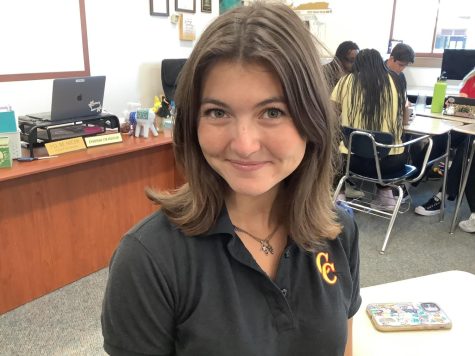 Sarah Brown, Co-Editor in Chief
Sarah Brown. Cheerleader, journalist, and vegan. Sarah has three siblings, all in college and her sister attends Colorado State University. She failed...