COVID-19 affects college admissions
When Cathedral Catholic High School student Emily Hood '20 decided to spend her next four years more than 2,000 miles away at a university that she's never visited, she understood the risk.
"The three top schools I narrowed down to I had never visited before," Hood said. "It was both exciting and stressful. After gathering information, I decided that the University of Michigan was the right fit for me. My dad also helped me get in touch with people in my field of study, and I was able to talk to them about the individual programs at the school along with career development. 
"I ended up making some wonderful connections, and they really helped me get excited about my major."
To combat the spread of COVID-19, most California colleges and universities, including all University of California schools, have closed to the public and transitioned into online learning. In addition, many colleges and universities across the nation, including Saint Mary's College of California and Pepperdine University, have extended deposit deadlines from May 1 to June 1.
"Saint Mary's made the decision to extend our enrollment decision deadline from May 1 to June 1, 2020, for the primary reason to accommodate any increased uncertainty in student's plans for college during this unprecedented time," said Ms. Jenna Sciarrino, who serves as the Associate Director of Admissions at Saint Mary's in Moraga, California. 
However, many colleges and universities, including all UC schools, continue to hold a strong May 1 deposit deadline, leaving many high school seniors, with less than two weeks left to decide on a college, lost and confused about where to choose.
"To make my decision, I watched many youtube videos, along with virtual tours and reviews on different platforms," Hood said. "The resource that helped me the most was talking to kids that currently attend the schools, because they were able to tell me about the community and overall feeling of the school, along with great details. I called people from all three of my top schools and told them what I valued in a school, and if that lined up with the experience they were receiving."
California governor Mr. Gavin Newsom's recent announcement to extend the California stay-at-home order until April 30 left many seniors unable to visit colleges before the May 1 deposit deadline.
"We have stressed to seniors the importance of reading all communication from colleges for updates, but they can also go directly to the college's website for information regarding COVID-19," CCHS college counselor Mrs. Kristen Wiley said. "Not every college is doing the same thing, so go to the source."
The College Board, which administers the SAT, cancelled the May 2, 2020 test and will be reviewing whether to hold June 6 testing. Many individual testing sites made the decision to cancel the SAT held on March 13. The ACT test, meanwhile, has been rescheduled from April 4 to June 13. 
Juniors relying and preparing on these testing dates may experience frustration or fall behind in the beginning of the college admissions process. However, some schools, like UC schools, are announcing that they will not require SAT or ACT scores in admissions for next fall because of uncertainty involving when testing might resume. CCHS student Emma McIntosh '21, who was scheduled to take March 14 SAT, is one example of a student who missed her testing day due to a COVID-19 cancellation.
"What made me frustrated was that the day of my test, a new replacement testing center had been posted on the website, which would have meant that my test had been moved to a new location," McIntosh said. "I didn't see the message until noon, so it felt unfair that I didn't get to take it. Apparently, The College Board was trying to find new testing centers for each test, and although mine happened to be one they posted new information for, they didn't post it until late on the 13th or early the morning of the 14th. 
"A few students went to the new testing center, but the test didn't happen there either. So, ultimately, I just got a refund for the test. It was more confusing and felt like a rollercoaster than anything." 
While many spring college visits remain cancelled, counselors urge students to remain positive and excited for the future, utilize virtual opportunities, and celebrate.
"[Seniors should] continue to celebrate with family and friends, virtually," Mrs. Wiley said. "We understand how disappointing of a time this is for our seniors, but there is a lot for them to be proud of, and we are certainly proud of them. Maybe spring college visits were cancelled, but colleges have launched virtual tour options to best support the students to still explore their campuses. 
"If seniors have any last minute questions they need answered to help them finalize a college decision, they can contact their admissions representative or general admissions, which can be found on a college's website."
Despite the challenge it poses, many seniors still emphasize a sense of hopefulness.
"I'm still nervous about attending a school I've never visited, especially being away from my family in an all new environment," Hood said. "It's exciting, it's a new journey, and I'm confident that I'll love the school and be proud to be a Wolverine. The important thing when choosing a school is being confident and happy with your choice, rather than thinking about the 'what if's.'
"Coronavirus is affecting many people in the college process, and the key is to stay positive and do all the research that you can."
Leave a Comment
About the Contributor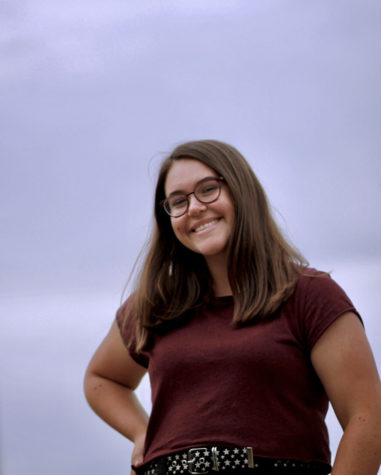 Angelina Hicks, Managing Editor
During my third school year on the El Cid staff, this time honored with the title of Managing Editor, I plan to spend every moment not only striving to...