Restoring the community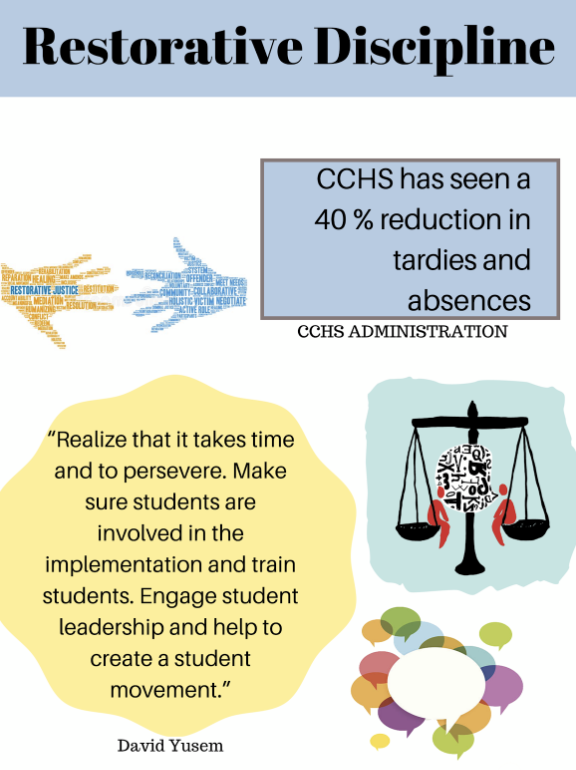 Dillon Tarle, Arts and Entertainment Editor
September 20, 2019
While it may be too early to examine the effectiveness of restorative discipline at Cathedral Catholic High School, organizations around the nation have implemented restorative discipline, reflecting its positives. The new change in CCHS's disciplinary policy has left many wondering whether or not the shift will work.
"I think that, especially with [restorative discipline] being a new program, there is always going to be improvements," CCHS Dean of Students Mr. Michael Wallace said. "So, we're adjusting and a big part of the improvement is increasing communication with everyone." 
With a wide variety of other schools in California adopting restorative discipline, there are case studies to analyze. 
Restorative discipline, implemented last year pertaining to attendance and dress code, has become comprehensive this year, with a focus on misbehavior. 
Despite restorative discipline's limited implementation last year, there was still an impact on the number of violations regarding absences, tardies, and dress code. By the end of last year, the new disciplinary policy mitigated infractions in its respective areas, according to Mr. Wallace. 
"We didn't have detention second semester, but just the number of violations dramatically reduced," Mr. Wallace said. "At one point in time after the third quarter there was almost a 40% improvement in attendance with respect to excessive tardies and absences."
CCHS hopes the program's success in reducing tardiness and dress code violations will transfer to other areas of discipline, including reducing rates of misbehavior.  
Many other schools in California provide models for restorative discipline.
Mr. David Yusem, the Coordinator of the Restorative Justice Program for the Oakland Unified School District, has several years of experience with restorative discipline. Of the 86 schools in his district, approximately 30 employ restorative disciplinary policies, with many schools yielding success. 
"Over the past seven years our suspensions have gone down about half," Mr. Yusem said. "And that's correlated directly with our [Restorative Justice] staffing in the district." 
In the Oakland Unified School District, schools with restorative policies seek engagement with their students and create dialogues between students and faculty. Having the difficult conversations about behavior have made all the difference, according to Mr. Yusem. 
"When you feel like you're part of a community [and] you harm someone in that community or there's a conflict in that community, then there's an opportunity via restorative justice to repair that harm," Mr. Yusem said. 
Teachers in the district report restorative discipline allows them to have a more engaging and active class. Additionally, Mr. Yusem has seen rates of misbehavior drop.
However, issues with funding and changes in staff have proven to be a hindrance to the success of restorative justice. 
Even with these hurdles, time increases the effectiveness of restorative discipline in schools. 
For schools planning on implementing restorative discipline, the key to success is cooperation and communication, Mr. Yusem said. 
"Realize that it takes time and perseverance," Mr. Yusem said. "Make sure students are involved in the implementation and train students. Engage student leadership and help to create a student movement."
While CCHS administration's expects success for restorative discipline, students remain skeptical.
"It makes me less frustrated with the administration," CCHS student Arden Woltman '21 said. "However it also makes me feel others would not want to care that much. If others are not getting punished then no one will care."
A recent El Cid poll found students were concerned about restorative discipline's effectiveness. On a scale of one to five, with one being least optimistic and five being most, the average response came to a 2.3. A commonality between respondents was the lack of visible punishment would not prevent misbehavior. 
CCHS, working toward full implementation of restorative discipline, and hopes to embody Catholic values. 
"Principal Calkins and I felt that traditional discipline, while very strong and rooted in Catholic education, didn't support the Catholic values," Mr. Wallace said. "If we're going to be a Catholic school and promote Catholic values then the way we address discipline should be aligned with that."
CCHS administration continue to ease concern about the shift from traditional discipline by clearly defining its purpose.
"What is the goal of discipline? If the goal is to make somebody feel bad or put them down or harm them, then traditional is going to work," Mr. Wallace said. "But if the goal is to see a change in behavior then look at how restorative works. Restorative is centered around changing behavior and repairing harm. Traditional is not."